Utopia para realistas/ Utopia for Realists (Paperback)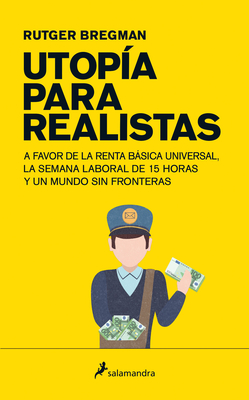 $19.95

Special Order - Subject to Availability
Description
---
Un ensayo ágil para reflexionar sobre el tipo de sociedad en la que vivimos y cómo resolver la gran paradoja de nuestro tiempo: que en la era de la abundancia, millones de personas sufran escasez.

¡Pongámonos a pensar. Soñemos con la Utopía!

Fruto del espectacular avance de la ciencia en los últimos decenios, la globalización está transformando de forma radical el orden social y económico del siglo XXI. En un mundo más pequeño y conectado, el progreso y el bienestar llegan hasta el último rincón del planeta, rescatando de la miseria a cientos de millones de personas. Sin embargo, la nueva economía virtual, sumada a la progresiva sustitución del trabajo humano por robots y computadoras, ha generado también un incremento de la desigualdad de tal dimensión que preocupa incluso a quienes no la padecen.

La distribución del trabajo y la acumulación de la riqueza se ha distorsionado, tensando a la sociedad hasta el punto de asomarse al abismo de la ruptura. La incertidumbre y el desconcierto se instalan en la gente y los políticos no ofrecen una respuesta racional sino al contrario, algunos apelan a las emociones más primarias. No la ofrecen porque no la tienen, y no la tienen, sencillamente, porque no son capaces de imaginar un sistema diferente.

Este libro, que ya ha provocado un impacto considerable en su versión digital abreviada, llama a encarar el desafío desde una óptica tan audaz como realista. Rutger Bregman no propone recetas milagrosas ni fórmulas magistrales. Reconoce las dificultades que entraña un cambio profundo del modelo social, y está convencido de que éste no surgirá de un genio solitario ni de ningún grupo de iluminados, sino de arraigar en la conciencia colectiva la idea de que otro modelo es posible y beneficioso para todos.

La crítica ha dicho...
«Brillante, completo, verdaderamente esclarecedor y sumamente legible. De lectura obligatoria para quienes se preocupan por las injusticias de la sociedad actual y quieren contribuir a remediarlas.» -Zygmunt Bauman

«Si estás aburrido de debates trillados y trasnochados sobre derechas e izquierdas, disfrutarás del pensamiento audaz, las ideas frescas, la prosa vívida y los argumentos basados en datos que contiene este libro.» -Steven Pinker

«Un libro brillante, que todos deberían leer. Bregman nos muestra que hemos estado mirando el mundo del revés. Al darle la vuelta, de repente, atisbamos nuevos caminos para avanzar. Si conseguimos que suficiente gente lea este libro, el mundo empezará a ser un lugar mejor.» -Richard Wilkinson, coautor de Desigualdad: Un análisis de la (in)felici

DESCRIPTION IN ENGLISH

Universal basic income. A 15-hour workweek. Open borders. Does it sound too good to be true? One of Europe's leading young thinkers shows how we can build an ideal world today.

"A more politically radical Malcolm Gladwell." -- New York Times

After working all day at jobs we often dislike, we buy things we don't need. Rutger Bregman, a Dutch historian, reminds us it needn't be this way -- and in some places it isn't. Rutger Bregman's TED Talk about universal basic income seemed impossibly radical when he delivered it in 2014. A quarter of a million views later, the subject of that video is being seriously considered by leading economists and government leaders the world over. It's just one of the many utopian ideas that Bregman proves is possible today.

Utopia for Realists is one of those rare books that takes you by surprise and challenges what you think can happen. From a Canadian city that once completely eradicated poverty, to Richard Nixon's near implementation of a basic income for millions of Americans, Bregman takes us on a journey through history, and beyond the traditional left-right divides, as he champions ideas whose time have come.

Every progressive milestone of civilization -- from the end of slavery to the beginning of democracy -- was once considered a utopian fantasy. Bregman's book, both challenging and bracing, demonstrates that new utopian ideas, like the elimination of poverty and the creation of the fifteen-hour workweek, can become a reality in our lifetime. Being unrealistic and unreasonable can in fact make the impossible inevitable, and it is the only way to build the ideal world.
About the Author
---
Rutger Bregman nació en Westerschouwen (Países Bajos) en 1988. Está considerado uno de los jóvenes pensadores europeos más destacados. Es autor de cuatro libros, en los que trata varias de las disciplinas que convergen en Utopía para realistas: historia, filosofía, economía y divulgación. Su History of progress obtuvo el premio Belgian Liberales como mejor obra de no ficción de 2013. Ha sido nominado en dos ocasiones para el European Press Prize por sus contribuciones periodísticas en The Correspondent. Sus artículos se han publicado también en medios como The Washington Post, The Guardian y la BBC.