Contemporary Issues in International Arbitration and Mediation: The Fordham Papers (2010) (Hardcover)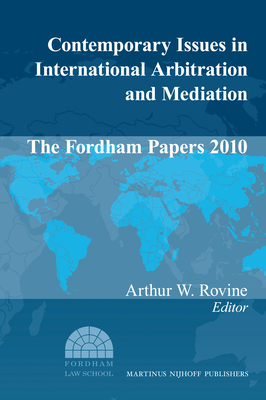 $273.00

Special Order - Subject to Availability
Other Books in Series
This is book number 4 in the Contemporary Issues in International Arbitration and Mediati series.
Description
---
The 2010 volume of Contemporary Issues in International Arbitration and Mediation - The Fordham Papers is a collection of important works in the field written by the speakers at the 2010 Fordham Law School Conference on International Arbitration and Mediation.

The 24 papers are organized into the following five parts:
Part I: Investor-State Arbitration, Charles N. Brower, Anke Meier, Maurice Mendelson QC, Brigitte Stern, W. Michael Reisman, Anna Vinnik, Christoph Schreuer.
Part II: Key Issues in the U.S. Law of International Arbitration, Thomas J. Stipanowich, George A. Bermann, Catherine A. Rogers, Ben H. Sheppard, Jr.
Part III: Dispute Resolution by the World Trade Organization, Andrew Shoyer, Kimberly Myers, Giorgio Sacerdoti, Greg Tereposky, Morgan Maguire, Richard O. Cunningham.
Part IV: How Major Corporations View International Arbitration, Siegfried H. Elsing, Stephen E. Smith, Roland Schroeder, Mike McIllwrath.
Part V: International Mediation, John Barkett, A. Timothy Martin, David H. Burt, Tai-Heng Cheng, Simeon Baum, Peter M. Wolrich, Suzanne Ulicny, Luis Martinez.
About the Author
---
Arthur W. Rovine has been serving as an arbitrator in international cases under ICSID, NAFTA and AAA/ICDR since he retired from Baker & McKenzie in 2005. He is also the director of the International Arbitration Conference at Fordham Law School and an adjunct professor of law at Fordham Law School.