Investing For Beginners: INVESTING FOR RETIREMENT - How To Make Money Consistently From Passive Investments (Paperback)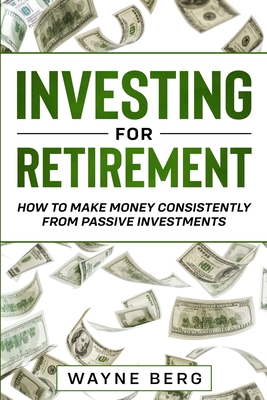 $19.00

Not Available In-Store - Usually Ships from Warehouse in 1-5 Days
Description
---
There are investors who get into investing for the long haul. These are long-term investors, and their approach is known as "position trading." Position trading is a long-term approach that looks to engage in holding on to assets for an extended period of time. If you are patient and in no hurry to make quick profits, you may consider position trading as an option for you.
Position is a logical progression from swing trading. The reason for this is that it takes quite a bit of foresight to determine what a stock will do in six months' time. That takes a lot of research and understanding of the market. If you are unfamiliar with the dynamics of a given market or the companies that comprise it, you may have a hard time "timing" the movements of these stocks or assets.
Position investors are keen on making large profits on individual deals. They are not keen on making short-term profits. In the short-term, you stand to make pennies on the dollar. That's not bad, especially if you engage in high-frequency trading. But when it comes to hitting home runs, you have to stay in the game long enough. For instance, you cannot expect a company's stock price to double in a matter of hours. But, you can expect it to double in a matter of weeks. As a result, you stand to clean up if something like this happens.
In This Book You Will Learn:
✓ Understanding the Fundamentals of Position Trading
✓ Difference Between Position Trading and Swing/Day Trading
✓ Reasons for Investing Long-Term
✓ Advantages and Disadvantages of Long-Term Investing
✓ Stocks to Hold for Long-Term
✓ Fundamentals of Position Trading
✓ Use of Technical Analysis and Fundamental Analysis in Position Trading
✓ Long-Term Investment Instruments
✓ Identifying Long-Term Trend
✓ Ignoring Short-Term Gains
✓ Spotting Long-Term Breakouts
✓ Building Wealth Through Position Trading
✓ Protection Against Shifts in the Market
✓ Diversification Against Risk
✓ Maintaining a Balanced Portfolio
✓ Understanding the Fundamentals of Swing Trading
✓ The Difference Between Swing Trading and Day Trading
✓ Benefits and Drawbacks of Swing Trading
✓ Swing Trading Assets
✓ The Use of Charts and Graphs
✓ Use of Moving Average (MACD)
✓ The Head and Shoulders Pattern
✓ Triple Tops and Triple Bottoms
✓ Candlestick Analysis
AND SO MUCH MORE
Let's Get You To Your Goals ASAP
Pick up your copy of the book right now by clicking the BUY NOW button at the top of this page