The Very Last Interview (Compact Disc)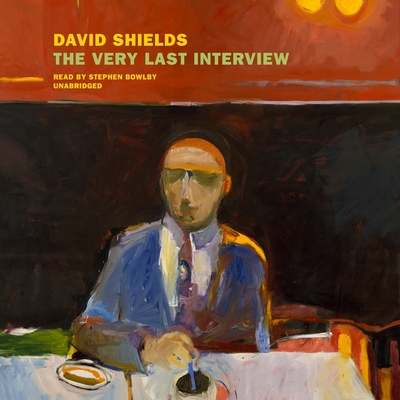 $26.95

Special Order - Subject to Availability
Description
---
In the spirit of his highly acclaimed and influential book Reality Hunger, David Shields has composed a mordantly funny, relentlessly self-questioning self-portrait based on questions that interviewers have asked him over forty years.
David Shields decided to gather every interview he's ever given, going back nearly forty years. If it was on the radio or TV or a podcast, he transcribed it. He wasn't sure what he was looking for, but he knew he wasn't interested in any of his own answers. The questions interested him--approximately 2,700, which he condensed and collated to form twenty-two chapters focused on such subjects as Process, Childhood, Failure, Capitalism, Suicide, and Comedy. Then, according to Shields, the real work began: rewriting and editing and remixing the questions and finding a through-line.
The result is a lacerating self-demolition in which the author--in this case, a late-middle-aged white man--is strangely, thrillingly absent. As Chuck Klosterman says, The Very Last Interview is David Shields doing what he has done dazzlingly for the past twenty-five years: interrogating his own intellectual experience by changing the meaning of what seems both obviously straightforward and obviously wrong.
Shields's new book is a sequel of sorts to his seminal Reality Hunger: A Manifesto, which Literary Hub recently named one of the most important books of the last decade. According to Kenneth Goldsmith, Just when you think Shields couldn't rethink and reinvent literature any further, he does it again. The Very Last Interview confirms Shields as the most dangerously important American writer since Burroughs.