Hydroponics: Guide to Build your Inexpensive Hydroponic System for Garden Growing Tasty Vegetables, Fruits and Herbs at Home Withou (Paperback)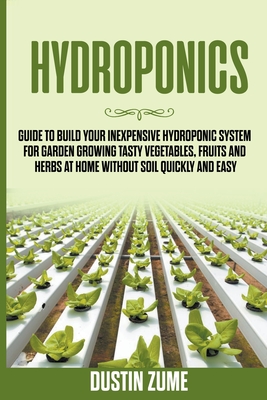 $14.99

Not Available In-Store - Usually Ships from Warehouse in 1-5 Days
Description
---
WHAT IS THE BEST WAY TO GROW TASTY AND INEXPENSIVE FRUITS AND VEGETABLES ALL- YEAR- LONG?
Just think about it...

Have you ever wondered why your local retailer sells non-seasonal fruits and vegetables for the whole year?
Why are they usually tasteless? And what's inside them?

And it doesn't take too much time to "google" and figure out how your local fresh fruits and vegetables are being grown and presented to your breakfast table.
Trust me, you don't want to see those videos...
That's why I want you to show another opportunity, that just recently started to become popular among common people, just like you.
People who care about their health and don't want to spend hundreds of dollars on harmful food.
And you don't need to own 3 acres of land to do it. Even a small garden is not a must.

Inside this book, I will teach you how to build a proper Hydroponics Plant Growing System and apply it to support your and your family's needs. A system that will allow you to grow fresh and delicious fruits and vegetables The Whole Year No Matter What.

Here are just a few things you are going to find inside:
- Why Hydroponics Over Traditional Plant Growth?
- A Proven Step-by-Step Hydroponics System's Building Formula
- Everything you need to know about plant nutrition
- How to grow fresh fruits, vegetables and herbs As Quickly As Possible
- How to set a Balanced Hydroponics System Inside Your Home?
- Most Common Mistakes you should avoid when building your first Hydroponics System
Much much more...
And keep in mind that you don't have to be a horticulture expert to build a successful Water-Based Plant Growing System.
Even if you didn't grow a single plant before, with this book will teach you everything from the beginning.
Now it is your turn to take action.