Chains of Time (Paperback)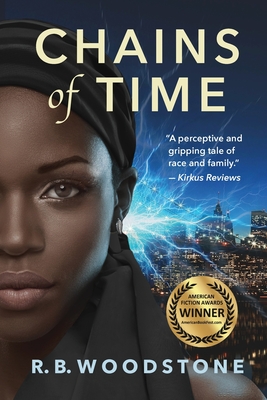 $14.00

Not Available In-Store - Usually Ships from Warehouse in 1-5 Days
Description
---
Winner of the 2021 American Fiction Award for Historical Fantasy
Winner of the 2020 Chanticleer International Book Award for Paranormal Fiction
Finalist for the 2020 Readers' Favorite Book Award for Paranormal Fiction
"A strong literary fantasy novel about race, family, and time-traveling." -- IndependentBookReview.com
SYNOPSIS: Amara saw him in her visions. She knew that the slaver Van Owen would come -- that he would raid her village, steal her power, and pursue her across time from the shores of West Africa in 1859 to the plantations of North Carolina to the spires of 21st Century New York City. No one believed her, and now they're all gone. But now Van Owen is hunting her descendants as well, so Amara must find them first and make them understand who she is, who they are, and what they can become.
Praise for CHAINS OF TIME..
"A perceptive and gripping tale of race and family."
-- Kirkus Reviews
"★★★★★ The beauty of Woodstone's prose evokes the intensity and allegorical journey that is usually reserved for literary fiction. The writing is simultaneously gorgeous, terrifying, and hopeful."
-- Readers' Favorite
"R.B. Woodstone has crafted a thoughtful, time-spanning novel that touches on family, oppression, and otherness in Chains of Time... the dramatic blend of history, tragedy, and magic pulls a reader in from the very start."
-- Self-Publishing Review
"An exceptional story that will place you in the heart and mind of each of the amazing characters. Prepare to be moved by a unique story that delves deep into the historical abuse of a people but has dynamic pockets of excitement, heartbreak, and the paranormal. Highly recommended."
-- Lesley Jones, international best-selling author
"With captivating characters on a fulfilling magical journey, Chains of Time is a strong novel that does not disappoint."
-- IndependentBookReview.com
"Though the work is rooted in fantasy and magical realism, there's a highly realistic quality to the historical content and the experience of Africans in the tragedy of the slave trade. Young adult and adult readers alike can appreciate the sophistication of ideas, which are layered into a powerful storyline that blends present and past exceedingly well."
-- K.C. Finn, USA Today best-selling author and Chanticleer Book Award winner