Sonic the Hedgehog, Vol. 16: Misadventures (Paperback)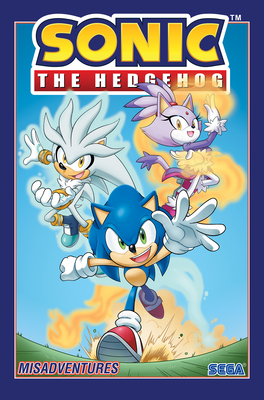 $16.99

Coming Soon - Available for Pre-Order Now
Description
---
While the villains are away, the heroes will play! Sonic and his pals go off on their own adventures, even as all roads lead them back to one another.

With Dr. Eggman and Surge subdued for now, Sonic and friends have a chance to relax, reset, and plan for the future. Or so they hope. If anything can be counted on around Sonic, it's that new misadventures are just waiting to happen!

To start, Amy visits Knuckles on Angel Island to return a relic. The island, as always, has a few surprises in store for them as they catch up. Meanwhile, Mimic is putting together the purrfect disguise to infiltrate the Restoration, and Silver is left to his own devices at Restoration HQ. Sonic himself has joined Blaze on a trip around the world where they will see all the sights to be seen!

Collecting IDW's Sonic the Hedgehog #62–66.
About the Author
---
Ian Flynn is a freelance writer for multiple forms of media. He's also "that Sonic guy" as his portfolio of Sonic the Hedgehog work makes abundantly clear. He was born and raised in Charlotte, North Carolina, and is currently based out of Toronto, Ontario, with easy business ties to both sides of the border. In addition to writing, he's part of a podcast/gaming channel series called the BumbleKast.

Evan Stanley grew up homeschooled in Santa Cruz, California, exploring the woods near her house and drawing whenever she could. At 13, she got hooked on the Sonic the Hedgehog game series, which inspired her to start creating her own comic books...and she hasn't stopped! Evan began working professionally in comics at 18, while pursuing a BFA in 3D character animation. After graduation, she worked at Sony Playstation as an animator before settling into doing comics full-time. She currently lives with her partner in San Mateo, California; when she's not working, you can find her hiking, reading, gaming, or hunting ghosts.