Love Without Wings: an Adoption Fairytale (Paperback)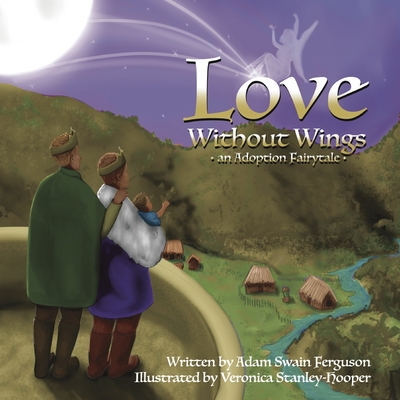 $12.99

Not Available In-Store - Usually Ships from Warehouse in 1-5 Days
Description
---
Two kings embark on a magical quest to become fathers, with a shooting star as their guide. Their adventure takes them across the land and eventually leads them deep into an enchanted forest. High in the treetops they meet a fairy who had wished on the same star; hoping to find the perfect family for a very special baby growing in her belly.

Love Without Wings began as a very special bedtime story; one inspired by my own family's adoption journey of two years - years spent waiting, wishing, and even grieving. We had all but given up; yet, when we received a call informing us that we had been chosen by our son's biological mother - our entire world turned right-side-up. Every tear shed, every heartache simply melted away the moment we held him in our arms; our tears of grief were replaced by tears of boundless joy. What I've learned through this experience, and now wish to share with the world is a message of hope - that even when the journey sometimes feels like we are crossing rivers, mountains, and even trudging through the densest and darkest woods - hold on to hope and look for the light; because it only takes one miraculous moment for everything to change, and then there will be meadows.

As an adoptive dad, I wrote Love Without Wings with hope that it will encourage children to feel pride in the magic that they bring to their families' lives. It's especially important that kids sense how much they have always been loved and wanted; that they are a greatest wish come true. In fact, every night as I rock my son to sleep, I still recite to him what I call "our special family story"; because from the day he was born, my goal has been to be open about adoption; that he knows his own narrative, and how our family came to be - what better way to achieve that, than through a fairytale?

Since becoming a father, I've had some difficulty finding children's books that don't focus solely on the mechanics or status of adoption. While there is certainly a need for this type of literature, I wanted to instead approach the subject through creative storytelling; in a way that young children can understand, appreciate, and identify with for years to come. Therefore, it brings me immeasurable pride to now share this tale with you dear readers - as a beautifully illustrated children's book that reflects our adoption journey. Not only does this book celebrate families like ours that are made complete through adoption; but also honors the birth parents who make these dreams possible.

Finally, for those families who are still wishing - I hope that Love Without Wings offers the encouragement and reassurance that I often found myself searching for. I realize that adoption is not always a fairytale, and that no two stories are ever the same. There are many nuances, hurdles, and setbacks for waiting families and children alike. With that said, please keep your heart open, your head high, and keep wishing on stars; with faith that one day, your little prince or princess will come.
About the Author
---
Adam Swain Ferguson discovered his calling for film and video production after moving to California in 2017, where he pursued a Bachelor's degree in Entertainment Business, and a Master's in Producing for Television.<br><br>After the birth of his son, Adam decided to follow another creative adventure. Channeling both his professional entertainment experience and innate talent as a storyteller, he's excited to be producing children's content inspired by his own personal experiences with family growth; including adoption and IVF. He currently lives in the greater Los Angeles area with his husband and their son. Veronica Stanley-Hooper has been an artist and educator for over 30 years. Recently, she decided to combine her talents to write and illustrate children's books. She enjoys watercolor and digital illustration. She resides in California with her family and two dogs.