Navigating the Shock of Parenthood: Warty Truths and Modern Practicalities - from a mom with twins (Paperback)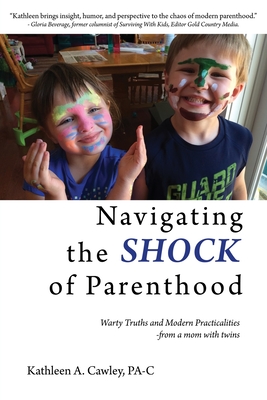 $17.99

Not Available In-Store - Usually Ships from Warehouse in 1-5 Days
Description
---
Navigating the Shock of Parenthood, pulls together insights from hundreds of experienced parents. It organizes expert advice, and reveals the social and historical sources of some of today's most anxiety provoking parenting imperatives. It also helps with a range of nitty gritty parenting challenges. Such as, projectile pooping (Real ). Dolphin training for toddlers. (Useful ) Or, how do I find community? What do I do when I find myself channeling the parent I never wanted to emulate?
A little insight and perspective will help you steer a course through the strange new waters of parenthood. With these tools you'll learn to guide your family boat in a direction of your choosing rather than being swept along by outside forces. Navigating the Shock of Parenthood will help you laugh, build your village, raise your kids with joy, make decisions with insight, and work for the world you want your children to inherit.
If you're struggling with new parenthood, you will find endless books on breastfeeding or potty training. However, there is almost nothing on the emotional and psychological challenges we face when we transition from adulthood to parenthood. Why are the joys of parenthood so heavily mixed with fear and angst? Where did "concerted cultivation," come from and do you really need to buy into it? What is "the race to nowhere," and how is it driving parents and children to anxiety. What has happened to modern American kindergarten, and is it a good thing?
Frankly, most parenting books also leave out many of the really difficult day to day challenges that parents struggle with. How do you to talk with young children about death? How do you manage problem relatives when kids and partners are in the picture? How do you parent a child who seems so different from yourself? How do you negotiate new life roles with your partner when society is pushing you heavily toward old stereotypes.
The challenges of today's parenthood are real, and the first years are often so hard. We all need some help. Navigating the Shock of Parenthood is loaded with warmth, help, and support for this epic new adventure in your life.