ONLINE ORDERING HAS BEEN TURNED OFF FOR THIS EVENT
Get your book and ticket in-store before the event, or by phone at 480.730.0205.
FAMILY EVENT
Andrew Knapp & Momo
Let's Find Momo!: A Hide-And-Seek Board Book
4PM SATURDAY, APRIL 22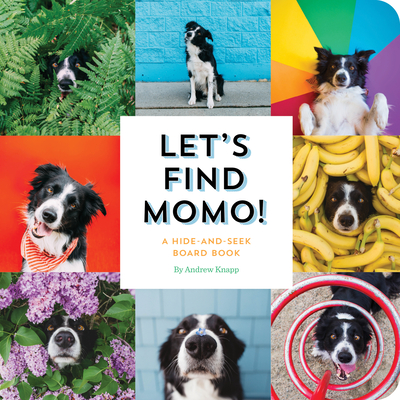 The popular Instagram photographer behind GoFindMomo.com, which has over 340,000 followers who play hide-and-seek with Knapp's dog Momo every day, presents a new board book designed specifically for young readers.
GET YOUR BOOK AND TICKET
Click "add to cart" at the bottom of the page. We'll send you an email confirmation, plus a second email with more details (usually within 24 hours).
EVENT GUIDELINES
Seating is determined by letter group (indicated on tickets) and opens at 3:30pm.
→ $9.99 + tax: One (1) copy of Let's Find Momo!: A Hide-And-Seek Board Book and admission for two (2) people
Signing line forms after the event by letter group printed on tickets.
Event guidelines may be subject to changes.
CAN'T MAKE IT?
Click "add to cart" below on the signed copy of
Let's Find Momo!: A Hide-And-Seek Board Book
and we'll have it signed and reserved for you. We also ship anywhere in the US and to most international locations!
ABOUT THE BOOK
Look for Momo hiding on a farm, in a bookstore, at a construction site, and in other unlikely locations (the photos are also loaded with other hidden objects for kids and parents to find together). Perfect for bedtime reading, car trips, playtime, or anytime,
Let's Find Momo
is part art book, part puzzle book, and all fun.
ABOUT THE AUTHOR
ANDREW KNAPP is a freelance interface designer, photographer, and tireless traveler from Northern Ontario. His Instagram feed featuring photographs of his border collie Momo is an internet sensation, with 575,000 followers and counting. Momo is Andrew's BFF, an excellent traveling companion, and a genius at hiding in beautifully composed landscape photography.
Let's Find Momo
is his third collaboration with Andrew, following
Find Momo
(Quirk, 2014) and
Find Momo Coast to Coast
(Quirk, 2015).