Lesley Stahl
Becoming Grandma
5:30PM WEDNESDAY, APRIL 26
ONLINE ORDERING HAS BEEN TURNED OFF FOR THIS EVENT
Get your book and ticket in-store before the event, or by phone at 602-274-0067.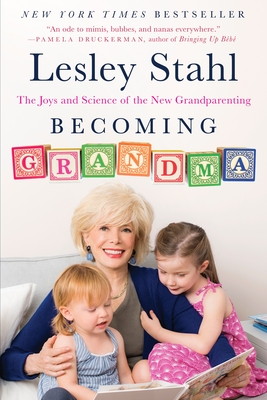 Renowned broadcast journalist Lesley Stahl presents her New York Times bestselling book about how becoming a grandparent transforms a person's life.
GET YOUR BOOK AND TICKET
Click "add to cart" at the bottom of the page. We'll send you an email confirmation, plus a second email with more details (usually within 24 hours).
EVENT GUIDELINES
Seating is determined by letter group (indicated on tickets) and opens at 5pm.
→ $16.00 + tax: One (1) copy of Becoming Grandma and admission for two (2) people
Signing line forms after the event by letter group printed on tickets.
Event guidelines may be subject to changes.
CAN'T MAKE IT?
Click "add to cart" below on the signed copy of
Becoming Grandma
and we'll have it signed and reserved for you. We also ship anywhere in the US and to most international locations!
ABOUT THE BOOK
After four decades as a reporter, Lesley Stahl's most vivid and transformative experience of her life was not covering the White House, interviewing heads of state, or researching stories at
60 Minutes
. It was becoming a grandmother. She was hit with a jolt of joy so intense and unexpected, she wanted to "investigate" it--as though it were a news flash. And so, using her
60 Minutes
skills, she explored how grandmothering changes a woman's life, interviewing friends like Whoopi Goldberg, colleagues like Diane Sawyer (and grandfathers, including Tom Brokaw), as well as the proverbial woman next door.
Along with these personal accounts, Stahl speaks with scientists and doctors about physiological changes that occur in women when they have grandchildren; anthropologists about why there are grandmothers, in evolutionary terms; and psychiatrists about the therapeutic effects of grandchildren on both grandmothers and grandfathers.
Throughout
Becoming Grandma
, Stahl shares stories about her own life with granddaughters Jordan and Chloe, about how her relationship with her daughter, Taylor, has changed, and about how being a grandfather has affected her husband, Aaron. In an era when baby boomers are becoming grandparents in droves and when young parents need all the help they can get raising their children, Stahl's book is a timely and affecting read that redefines a cherished relationship.
ABOUT THE AUTHOR
LESLEY STAHL is one of America's most recognized and experienced broadcast journalists. Her career has been marked by political scoops, surprising features and award-winning foreign reporting. She has been a
60 Minutes
correspondent since 1991; the 2015-2016 season marks her twenty-fifth on the broadcast. Before joining
60 Minutes
, Stahl served as CBS News White House correspondent during the Carter, Reagan, and part of the George H.W. Bush presidencies. She also hosted
Face the Nation
from 1983 to 1991 and coanchored
America Tonight
from 1989 to 1990. She is married to author and screenwriter Aaron Latham. They have one daughter and two granddaughters. (from the hardcover edition)