ONLINE ORDERING HAS BEEN TURNED OFF FOR THIS EVENT
Get your book and ticket in-store before the event, or by phone at 480.730.0205.
TEEN EVENT
Suzanne Young
The Adjustment
7PM TUESDAY, APRIL 18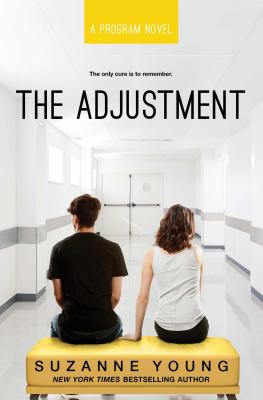 The New York Times bestselling author of The Program series shares the latest and final novel in the trilogy.
GET YOUR BOOK AND TICKET
Click "add to cart" at the bottom of the page. We'll send you an email confirmation, plus a second email with more details (usually within 24 hours).
CHANGING HANDS EXCLUSIVE PROMOTION:
Pre-order your copy of
The Adjustment
from Changing Hands and receive an
exclusive
pair of earbuds!
EVENT GUIDELINES
Seating is determined by letter group (indicated on tickets) and opens at 6:30pm.
→ $17.99 + tax: One (1) copy of The Adjustment and admission for two (2) people
Signing line forms after the event by letter group printed on tickets.
Event guidelines may be subject to changes.
CAN'T MAKE IT?
Click "add to cart" below on the signed copy of
The Adjustment
and we'll have it signed and reserved for you. We also ship anywhere in the US and to most international locations!
ABOUT THE BOOK
How do you go back to a life you can't remember? Find out in this follow up to the
New York Times
bestselling
The Program
and
The Treatment
.
Tatum Masterson never went through The Program. She never had her memory stripped, never had to fight to remain herself. But when Weston, her longtime boyfriend and love of her life, was taken by handlers, she hoped he'd remember her somehow that their love would be strong enough.
It wasn't.
Like all returners, Weston came back a blank canvas. The years he and Tatum spent together were forgotten, as well as the week when he mysteriously disappeared before The Program came for him.
Regardless of his memory loss, Tatum fights to get Weston to remember her. And just as they start to build a new love, they hear about the Adjustment, a new therapy that implants memories from a donor. Despite the risks, Tatum and Weston agree to go through the process. Tatum donates her memories from their time together.
But the problem with memories is that they are all a matter of perspective. So although Weston can now remember dating Tatum, his emotions don't match the experiences. And this discrepancy is slowly starting to unravel him, worse than anything The Program could have done.
And as the truth of their life together becomes clear, Tatum will have to decide if she loves Weston enough to let him go, or to continue to live the lie they'd build together.
ABOUT THE AUTHOR
SUZANNE YOUNG is the
New York Times
bestselling author of The Program series. Originally from Utica, New York, Suzanne moved to Arizona to pursue her dream of not freezing to death. She is a novelist and an English teacher, but not always in that order. Suzanne is the author of
The Program
,
The Treatment
,
The Remedy,
T
he Epidemic
,
A Need So Beautiful
, and
Hotel Ruby
.