ONLINE ORDERING HAS BEEN TURNED OFF FOR THIS EVENT
Get your book and ticket in-store before the event, or by phone at 480.730.0205.
TWEEN EVENT
Brandon Mull
Dragonwatch
7PM WEDNESDAY, APRIL 26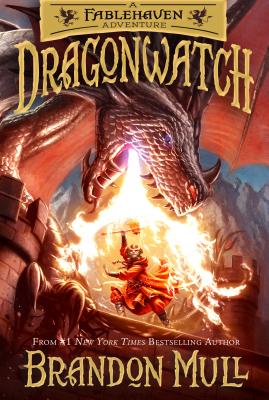 The #1 New York Times bestselling author visits with the long-awaited sequel to Fablehaven.
GET YOUR BOOK AND TICKET
Click "add to cart" at the bottom of the page. We'll send you an email confirmation, plus a second email with more details (usually within 24 hours).
EVENT GUIDELINES
Seating is determined by letter group (indicated on tickets) and opens at 6:30pm.
→ $18.99 + tax: One (1) copy of Dragonwatch and admission for two (2) people
Signing line forms after the event by letter group printed on tickets.
Event guidelines may be subject to changes.
CAN'T MAKE IT?
Click "add to cart" below on the signed copy of
Dragonwatch
and we'll have it signed and reserved for you. We also ship anywhere in the US and to most international locations!
ABOUT THE BOOK
In the hidden dragon sanctuary of Wyrmroost, Celebrant the Just, King of the Dragons, plots his revenge. He has long seen the sanctuaries as prisons, and he wants nothing more than to overthrow his captors and return the world to the Age of Dragons, when he and his kind ruled and reigned without borders. The time has come to break free and reclaim his power.
No one person is capable of stopping Celebrant and his dragon horde. It will take the ancient order of Dragonwatch to gather again if there is any chance of saving the world from destruction. In ancient times, Dragonwatch was a group of wizards, enchantresses, dragon slayers, and others who originally confined the majority of dragons into sanctuaries. But nearly all of the original Dragonwatch members are gone, and so the wizard Agad reaches out to Grandpa Sorenson for help.
As Kendra and Seth confront this new danger, they must draw upon all their skills, talents, and knowledge as only they have the ability to function together as a powerful dragon tamer. Together they must battle against forces with superior supernatural powers and breathtaking magical abilities.
How will the epic dragon showdown end? Will dragons overthrow humans and change the world as we know it?
ABOUT THE AUTHOR
BRANDON MULL is the #1
New York Times
bestselling author of the Fablehaven series and Beyonders series. He travels the country visiting schools, promoting literacy, and sharing his message that ''Imagination Can Take You Places.''