Wayne Pacelle: The Humane Economy: How Innovators and Enlightened Consumers Are Transforming the Lives of Animals
7PM TUESDAY, APRIL 25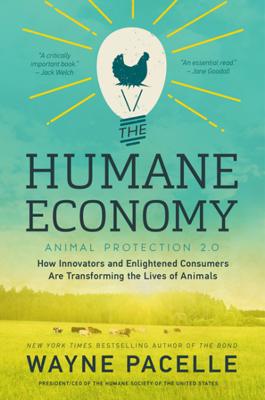 Sponsored by:
Wayne Pacelle, President and CEO of the Humane Society of the United States, presents his new book, exploring how our everyday economic decisions impact the survival and wellbeing of animals, and how we can make choices that better support them.
From the leader of the nation's most powerful animal-protection organization comes a frontline account of how conscience and creativity are driving a revolution in American business that is changing forever how we treat animals and create wealth. Wayne Pacelle of the Humane Society of the United States reveals how entrepreneurs, Fortune 500 CEOs, world-class scientists, philanthropists, and a new class of political leaders are driving the burgeoning, unstoppable growth of the "humane economy."
Every business grounded on animal exploitation, Pacelle argues, is ripe for disruption. Indeed each one of us is, and will be, touched by this far-reaching transformation in food and agriculture; in the pharmaceutical, chemical, and cosmetics industries; in film, television, and live entertainment; in tourism and wildlife management; in the pet trade for dogs and cats and exotic wildlife; and in fur and leather fashions. Collectively it promises to relieve or end the suffering of billions of creatures, while allowing businesses aligned with the best instincts and values of their customers to flourish.
Pacelle shows, for instance, how the cruelties of industrial chicken farming are quickly becoming obsolete with a visit to Hampton Creek, the makers of a plant-based egg substitute and the world's fastest-growing food startup ever. Pacelle also recounts the stories of how established companies are joining in this economic transformation: from Petco and PetSmart, which have turned the conventional pet store model on its head by forswearing puppy mill suppliers in favor of shelter dogs; to John Paul Mitchell Systems, the Body Shop, and Lush, which use safe ingredients instead of animal tests for their cosmetics; to major food retailers like Whole Foods, Chipotle, and even Costco and Walmart, which are embracing animal welfare standards that are one by one unwinding the horrors of the factory farm.
The Humane Economy
is a clarion call to business leaders and to the world's growing animal protection movement; it is equally a warning to the static thinking of animal-use industries and their apologists: "Here, in this humane economy," Pacelle argues, "human ingenuity meets human virtue, and we discover at last that we can have it both ways - a better world for us and for animals, too."
Co-sponsored by the Julie Ann Wrigley Global Institute of Sustainability
ABOUT THE AUTHOR
WAYNE PACELLE is President and CEO of The Humane Society of the United States, which is one of the nation's top charities. Pacelle is a passionate defender of animals and an inspiration to millions of supporters and advocates. He's seen cruelty and compassion up close in his work, and he writes about the timeless but still ever-changing bond between humans and animals. He explores how that bond has been broken in so many ways in the industrial era.
Pacelle, who has led the humane movement from the margins to the mainstream, takes readers to ice floes of Atlantic Canada and the sealers' assault on the greatest wildlife nursery in the world, gives them a glimpse of a freshly shuttered slaughter plant in California, plunges them into the chaos of animal rescue in the aftermath of Katrina, and provides them with a front-row seat as he and Michael Vick talk in a prison courtyard about dogfighting and the human-animal bond.

$26.99
ISBN: 9780062389640
Availability: Not Available In-Store - Usually Ships from Warehouse in 1-5 Days
Published: William Morrow & Company - April 19th, 2016
---