ONLINE ORDERING HAS BEEN TURNED OFF FOR THIS EVENT
Get your book and ticket in-store before the event, or by phone at 480.730.0205.
Valerie Bertinelli
Valerie's Home Cooking: More Than 100 Delicious Recipes to Share with Friends and Family
7PM FRIDAY, APRIL 27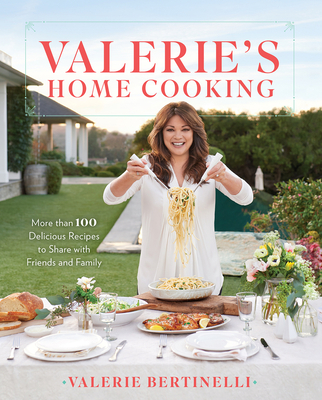 Two-time Golden Globe winner and Food Network host Valerie Bertinelli shares her new cookbook.
GET YOUR BOOK AND TICKET
Click "add to cart" at the bottom of the page. We'll send you an email confirmation, plus a second email with more details (usually within 24 hours).
EVENT GUIDELINES
Seating is determined by letter group (indicated on tickets) and opens at 6:30pm.
→ $30.00 + tax: One (1) copy of Valerie's Home Cooking and admission for one (1) person
Signing line forms after the event by letter group printed on tickets.
Event guidelines may be subject to changes.
Refunds will not be issued within three days of the event.
CAN'T MAKE IT?
Click "add to cart" below on the signed copy of
Valerie's Home Cooking
and we'll have it signed and reserved for you. We also ship anywhere in the US and to most international locations!
ABOUT THE BOOK
As the current star of her Food Network show,
Valerie's Home Cooking
, and co-host of the network's
Kids Baking Championship
, as well as having spent years acting on television, Valerie Bertinelli has made a name for herself in households across America. But to really know Valerie is to spend time in her kitchen.
Inspired by her family's cooking legacy, Valerie specializes in showing fans how to make dishes their own families will love that are for the heart and soul. As she often says, there's a story behind every recipe and Valerie shares them in this gorgeous cookbook, where home cooks will find more than 100 recipes that are easy to make and innovative--they're just as fresh, vibrant and down to earth as Valerie herself. Many of these classic comforting recipes have an original twist like Bloody Mary Tea Sandwiches, Lobster BLTs, Quick Rotisserie Chicken Gumbo, and S'mores Popcorn. These mouthwatering dishes will become your go-tos, whether you're having breakfast or lunch on your own, friends are joining for last-minute cocktails and small bites, or the whole family is coming together for a hearty dinner and dessert.
ABOUT THE AUTHOR
VALERIE BERTINELLI is a television personality,
New York Times
bestselling author, and passionate home cook. She hosts her own Food Network cooking show called
Valerie's Home Cooking
, reaching 1.5 million weekly viewers, and co-hosts
Kids Baking Championship
on the network. Bertinelli is well-known for her starring roles on the shows
One Day at a Time
and
Hot in Cleveland
. She currently lives in Los Angeles, CA.