HOSTED BY ARIZONA REPUBLIC REPORTER BARBARA VANDENBURGH
First Draft Book Club: Bowlaway by Elizabeth McCracken
7PM WEDNESDAY, APRIL 24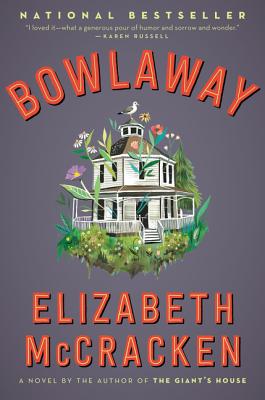 Join us at First Draft Book Bar (the wine and beer bar inside Changing Hands Phoenix) for a discussion of this month's pick, Bowlaway by Elizabeth McCracken.
Stop by Changing Hands Phoenix or Tempe (or order online by clicking "add to cart" below) to get your copy of
Bowlaway.
Then meet us and
Arizona Republic
reporter Barbara VanDenburgh at First Draft Book Bar to discuss the pick and enjoy
HAPPY HOUR
prices all through the event.
Sign up for Barbara VanDenburgh's weekly "Feel Good 5" newsletter
here
, and join our First Draft Book Club Facebook group
here
.
ABOUT THE BOOK
A sweeping and enchanting new novel from the widely beloved, award-winning author Elizabeth McCracken about three generations of an unconventional New England family who own and operate a candlepin bowling alley.

From the day she is discovered unconscious in a New England cemetery at the turn of the twentieth century—nothing but a bowling ball, a candlepin, and fifteen pounds of gold on her person—Bertha Truitt is an enigma to everyone in Salford, Massachusetts. She has no past to speak of, or at least none she is willing to reveal, and her mysterious origin scandalizes and intrigues the townspeople, as does her choice to marry and start a family with Leviticus Sprague, the doctor who revived her. But Bertha is plucky, tenacious, and entrepreneurial, and the bowling alley she opens quickly becomes Salford's most defining landmark—with Bertha its most notable resident.
When Bertha dies in a freak accident, her past resurfaces in the form of a heretofore-unheard-of son, who arrives in Salford claiming he is heir apparent to Truitt Alleys. Soon it becomes clear that, even in her death, Bertha's defining spirit and the implications of her obfuscations live on, infecting and affecting future generations through inheritance battles, murky paternities, and hidden wills.
In a voice laced with insight and her signature sharp humor, Elizabeth McCracken has written an epic family saga set against the backdrop of twentieth-century America. Bowlaway is both a stunning feat of language and a brilliant unraveling of a family's myths and secrets, its passions and betrayals, and the ties that bind and the rifts that divide.
WHAT IS FIRST DRAFT BOOK CLUB?
First Draft Book Club is the official book club of
First Draft Book Bar
– the coffee, beer, and wine bar inside Changing Hands Phoenix. Every month,
Arizona Republic
reporter Barbara VanDenburgh picks a hot new book and hosts a guided book club discussion.
Co-sponsored by:

$22.39
ISBN: 9780062862853
Availability: Not Available In-Store - Usually Ships from Warehouse in 1-5 Days
Published: Ecco - February 5th, 2019
---