CHANGING HANDS BOOK CLUB
Found in Translation: Small Country by Gaël Faye
7PM WEDNESDAY, APRIL 10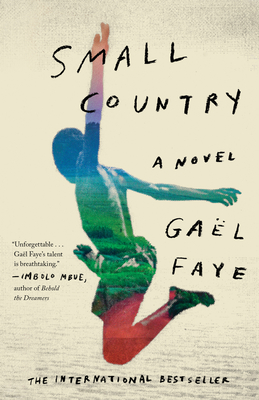 This month we'll discuss Small Country by Gaël Faye.
Whether you're a seasoned traveler, a voracious reader, or a dreamer who wants to see the world, all are invited to our newest book club focused on international literature. Sometimes visiting other countries doesn't always give travelers an insider's view into foreign cultures; sometimes we are still too outside, too different, to get at the heart of a place. Often the best way to understand distant lands and peoples is to read their literature, to get inside the head of a foreign author, to hear their myths and fairy tales molded around words they penned in their mother tongue.
In Found in Translation, we will delve into a work of international literature in a small group setting while enjoying coffee, beer, or wine drinks from First Draft Book Bar, located in Changing Hands Phoenix.
Stop by Changing Hands Phoenix or Tempe (or order online by clicking "add to cart" below) to get your copy of
Small County
for
10% OFF
.
Then meet us at First Draft Book Bar to discuss the pick and enjoy
HAPPY HOUR
prices all through the event.
FREE PARKING / LIGHT RAIL
Don't want to drive? Take the Light Rail! It lets off at the Central Avenue/Camelback Park-and-Ride, which has hundreds of free parking spaces across the street from Changing Hands.
ABOUT THE BOOK
Already an international sensation and prize-winning bestseller in France, an evocative coming-of-age story of a young boy, a lost childhood and a shattered homeland.
Burundi, 1992. For ten-year-old Gabriel, life in his comfortable expatriate neighborhood of Bujumbura with his French father, Rwandan mother and little sister Ana, is something close to paradise.
These are carefree days of laughter and adventure – sneaking Supermatch cigarettes and gorging on stolen mangoes – as he and his mischievous gang of friends transform their tiny cul-de-sac into their kingdom.
But dark clouds are gathering over this small country, and soon their peaceful existence will shatter when Burundi, and neighboring Rwanda, are brutally hit by civil war and genocide.
A novel of extraordinary power and beauty,
Small Country
describes an end of innocence as seen through the eyes of a child caught in the maelstrom of history. Shot through with shadows and light, tragedy and humor, it is a stirring tribute not only to a dark chapter in Africa's past, but also to the bright days that preceded it.