Kim Dower: Sunbathing on Tyrone Power's Grave
7PM THURSDAY, APRIL 4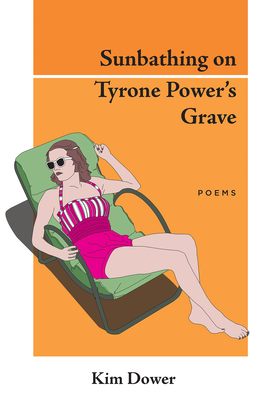 Kim Dower, former Poet Laureate of West Hollywood, reads from her fourth collection, Sunbathing on Tyrone Power's Grave.
Chris Kraus, author of
I Love Dick
, calls the poems in this collection "exuberant, sexy, and sobering...showing Kim at the top of her game."
In Kim Dower's fourth collection,
Sunbathing on Tyrone Power's Grave
, death has never felt so alive. Alluring titles to haunting last lines, the poems in Dower's fourth collection soothe, terrify, and always surprise, revealing the extraordinary within the ordinary. Acclaimed for combining the accessible and profound, humor and heartache, Dower's poetry continues to be quirky, dark, sexy, disarmingly candid, and moving, and here she explores the landscape of death and its intersections with love, longing, obsession, sadness, joy, and beauty. Wise and soaring, these poems bravely imagine another life beyond the one we all know where even the angels surrounding the graves are wearing bikinis, smoking Kool Lights.
PARKING / LIGHT RAIL
Don't want to drive? Take the Light Rail! It lets off at the Central Avenue/Camelback Park-and-Ride, which has hundreds of free parking spaces across the street from Changing Hands.
ABOUT THE AUTHOR
KIM DOWER, originally from New York City, received a BFA in Creative Writing from Emerson College, where she also taught creative writing. She has published four collections of poetry, all from Red Hen Press:
Sunbathing on Tyrone Power's Grave
, her latest, is "exuberant, sexy and sobering, remarkable poems finding Kim at the top of her game," says bestselling author (
I LOVE DICK
), Chris Kraus.
Air Kissing on Mars
(2010), was on the Poetry Foundation's Contemporary Best Sellers list and described by the
Los Angeles Times
as "sensual and evocative...seamlessly combining humor and heartache";
Slice of Moon
(2013), called "unexpected and sublime" by
O magazine
; and
Last Train to the Missing Planet
(2016), praised by Inaugural Poet Richard Blanco. Kim was City Poet Laureate of West Hollywood, California from October 2016 to October 2018.

$16.95
ISBN: 9781597096218
Availability: On Our Shelves Now
Published: Red Hen Press - April 1st, 2019
---