Daniel Magariel: One of the Boys
7PM MONDAY, AUGUST 28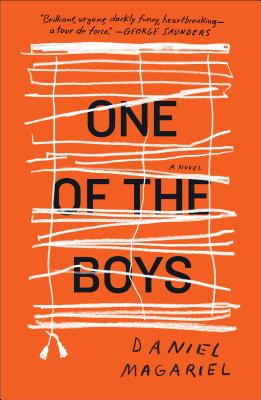 Daniel Magariel shares his debut, a New York Times Book Review Editors' Choice, about two young brothers contending with the love they have for their abusive father.
The three of them--a twelve-year-old boy, his older brother, their father--have won
the war
the father's term for his bitter divorce and custody battle. They leave their Kansas home and drive through the night to Albuquerque, eager to begin again, united by the thrilling possibility of carving out a new life together. The boys go to school, join basketball teams, make friends. Meanwhile their father works from home, smoking cheap cigars to hide another smell. But soon the little missteps--the dead-eyed absentmindedness, the late night noises, the comings and goings of increasingly odd characters--become worrisome, and the boys find themselves watching their father change, grow erratic, then dangerous.
Set in the sublimely stark landscape of suburban New Mexico and a cramped apartment shut tight to the world,
One of the Boys
conveys with propulsive prose and extraordinary compassion a young boy's struggle to hold onto the pieces of his shattered family. Tender, moving and beautiful, Daniel Magariel's masterful debut is a story of resilience and survival: two foxhole-weary brothers banding together to protect each other from the father they once trusted, but no longer recognize. With the emotional core of
A Little Lif
e and the speed of
We the Animals
,
One of the Boys
is among the most remarkable debut novels you'll ever read.
PLEASE NOTE:
Daniel leads a writing workshop earlier in the day from 5:30 to 6:30pm. Purchase a copy of
One of the Boys
for admittance into the workshop.
Details »
FREE PARKING / LIGHT RAIL
There is plenty of free public parking west of Changing Hands Phoenix, at 400 and 444 West Camelback. Additional free public parking across Camelback to the south.
Don't want to drive? Take the Light Rail! It lets off at the Central Avenue/Camelback Park-and-Ride, which has hundreds of free parking spaces across the street from Changing Hands.
ABOUT THE AUTHOR
DANIEL MAGARIEL is a fiction writer from Kansas City. He has a BA from Columbia University, as well as an MFA from Syracuse University, where he was a Cornelia Carhart Fellow. He has lived in Kansas, Missouri, New Mexico, Florida, Colorado, and Hawaii. He currently lives in New York with his wife.
One of the Boys
is his first novel.