Jessica Dunham: Moon Route 66 Road Trip
7PM THURSDAY, AUGUST 22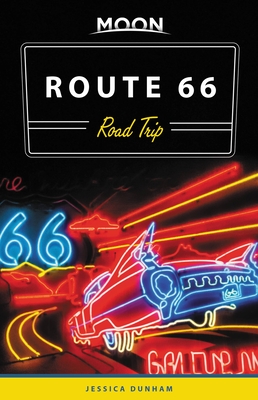 The author of the newly revised second edition of Moon Route 66 Road Trip discusses of the untold story of the women of Route 66, complete with a Powerpoint presentation of historical photos.
Jessica Dunham has driven thousands of miles along the famed highway. Her practical guide links the existing highways that comprise the original Route 66, introducing travelers to the small towns, big cities, and local surprises along this "bucket list" road trip. But the story of Route 66 isn't complete without the illustrious women who contributed to the road's growth, success, and preservation. Inside every chapter, Dunham offers call-outs that focus on these little-known women doing amazing things.
PARKING / LIGHT RAIL
Don't want to drive? Take the Light Rail! It lets off at the Central Avenue/Camelback Park-and-Ride, which has hundreds of free parking spaces across the street from Changing Hands.
ABOUT THE AUTHOR
Jessica Dunham
lives in Phoenix with her husband and two spunky dogs, but inherited a family summer home on Lake Champlain in Vermont. This seemed heavenly to her, until she tried to imagine getting there from halfway across the country. Then it required some effort and a little imagination. The only way to transport the herd from one place to another was to pile into a Jeep and drive. That's how she came to know and love the Mother Road, and became an expert on the ins and outs of Route 66.
She's since driven from Phoenix to Vermont and back again six times, traversed the Southwest portion of Route 66 hundreds of times, napped in leafy parks, slept in a wigwam and at a Best Western, camped in tents, dined at mom-and-pop eateries, met strangers, and made friends in almost every town dotting the famed highway. She's seen the sun rise over Illinois cornfields and watched it set over the Pacific Ocean. After all this, she considers the beating heart of blacktop from Chicago to Santa Monica home.
Formerly a travel guide editor at Madden Media, Jessica is now a freelance travel writer. Her writing has been featured in
PHOENIX magazine, Valley Guide, Phoenix Travel Guide, Arizona Visitor's Guide, Midwest Living, Phoenix New Times, Modern Luxury, Annapolis Visitors Guide, Connecticut Visitors Guide, Runner's World, Jane, Discover South Carolina
, and more.

$19.99
ISBN: 9781640490277
Availability: On Our Shelves Now
Published: Moon Travel - June 11th, 2019
---