HOSTED BY JAVELINA CEO CATHERINE ALONZO
Mind Your Business Book Club - Loonshots: How to Nurture the Crazy Ideas That Win Wars, Cure Diseases, and Transform Industries by Safi Bahcall
6:30PM MONDAY, AUGUST 12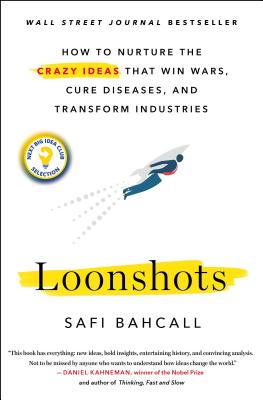 Introducing "Mind Your Business," a book club for business leaders, managers, entrepreneurs—anyone interested in the art and science of doing business!
On the second Monday of each month, Javelina CEO Catherine Alonzo leads a discussion of a business book at Changing Hands Phoenix, home of our First Draft Book Bar. Ranging from how to build and scale a business to how to lead a team, you'll read business book classics as well as new hits. (And get 20% off when you purchase the selection of the month at Changing Hands.)
ABOUT THE BOOK
What do James Bond and Lipitor have in common? What can we learn about human nature and world history from a glass of water?
In Loonshots, physicist and entrepreneur Safi Bahcall reveals a surprising new way of thinking about the mysteries of group behavior that challenges everything we thought we knew about nurturing radical breakthroughs.
Drawing on the science of phase transitions, Bahcall shows why teams, companies, or any group with a mission will suddenly change from embracing wild new ideas to rigidly rejecting them, just as flowing water will suddenly change into brittle ice. Mountains of print have been written about culture. Loonshots identifies the small shifts in structure that control this transition, the same way that temperature controls the change from water to ice.
Using examples that range from the spread of fires in forests to the hunt for terrorists online, and stories of thieves and geniuses and kings, Bahcall shows how this new kind of science helps us understand the behavior of companies and the fate of empires. Loonshots distills these insights into lessons for creatives, entrepreneurs, and visionaries everywhere.
Over the past decade, researchers have been applying the tools and techniques of phase transitions to understand how birds flock, fish swim, brains work, people vote, criminals behave, ideas spread, diseases erupt, and ecosystems collapse. If twentieth-century science was shaped by the search for fundamental laws, like quantum mechanics and gravity, the twenty-first will be shaped by this new kind of science. Loonshots is the first to apply these tools to help all of us unlock our potential to create and nurture the crazy ideas that change the world.

$26.99
ISBN: 9781250185969
Availability: On Our Shelves Now
Published: St. Martin's Press - March 19th, 2019
---