ONLINE ORDERING HAS BEEN TURNED OFF FOR THIS EVENT
Get your book and ticket in Changing Hands Phoenix before the event, or by phone at 602.274.0067
Adam Bray and Michael Kogge: Star Wars
4PM SATURDAY, SEPTEMBER 5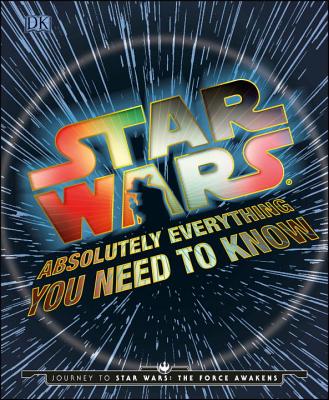 Join the authors and the Stormtroopers of the 501st Legion for a talk, book signing and Star Wars themed activities in celebration of the release of their guidebook packed full of interesting Star Wars facts, questions and answers, and infographics.
Star Wars: Absolutely Everything You Need to Know
explores the world of "Star Wars" through lively lists, interesting facts, and questions and answers via a highly engaging infographic design. Whether it's a chart of who is the oldest Jedi, a list of all the owners of the "Millennium Falcon," or a diagram showing all the Jedi Yoda has trained, this guide will excite readers of all ages and provide facts they never knew about the
Star Wars
Galaxy.
PURCHASE TICKETS
Call us at (602)274-0067 or stop into Changing Hands Phoenix to order your book and ticket.

EVENT DETAILS
TICKET (admits two) is free with book purchase from Changing Hands.

Letter groups (printed on top of ticket) will be called at 3:30pm to fill seats and designated standing room.
If available, seating and standing room opens to those without tickets at 3:50pm.
Booksigning line forms by assigned letter group after the presentation.
Those without tickets may get their books signed after ticket-holders, if time allows.
Space cannot be guaranteed for late arrivals.

Event details may be subject to unannounced changes.
CAN'T MAKE IT? If you'd like a signed book from any of our author events, call or order in-store at Changing Hands Phoenix. We also ship anywhere in the US and to most international locations!
ABOUT THE AUTHORS
ADAM BRAY is a journalist, photographer and guidebook writer for more than 25 titles published by
Insight Guides, DK Eyewitness, Berlitz, Thomas Cook
, and
Things Asian
. He has written the Star Wars books
Star Wars: What Makes a Monster?
and
Star Wars Rebels: The Visual Guide
.
MICHAEL KOGGE is a screenwriter, author, and comic book scribe living in Los Angeles. He has written for a variety of universes, from Lucasfilm's
Star Wars
, Activision/Blizzard's
StarCraft
, to Edgar Rice Burroughs's
Mars
.