EXCLUSIVE SIGNED AND PERSONALIZED COPIES FOR HOLIDAY GIFT-GIVING
SHIPPED WORLDWIDE - ORDER TODAY
ONLINE ORDERING HAS BEEN TURNED OFF FOR THIS EVENT
Get your book and ticket in-store before the event, or by phone at 602-274-0067.
MEET AND GREET BOOKSIGNING ONLY
Chris Bianco
Bianco: Pizza, Pasta, and Other Food I Like
12-1PM SATURDAY, DECEMBER 2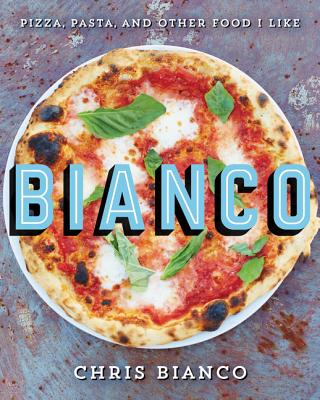 PLEASE NOTE:
The Phoenix Electric Light Parade causes
road closures on the same day (12/2).
See below for alternate routes.

[Click to enlarge]
Chris Bianco, the James Beard award-winning chef and owner of Phoenix's legendary Pizzeria Bianco, signs his highly anticipated cookbook.
ORDER YOUR BOOK ONLINE
Click "add to cart" at the bottom of the page. We'll send you an email confirmation, plus a second email with more details (usually within 24 hours).
EVENT DETAILS
SIGNING LINE forms at 12pm.
FREE PARKING / LIGHT RAIL
There is plenty of free public parking west of Changing Hands Phoenix, at 400 and 444 West Camelback. Additional free public parking across Camelback to the south.
Don't want to drive? Take the Light Rail! It lets off at the Central Avenue/Camelback Park-and-Ride, which has hundreds of free parking spaces across the street from Changing Hands.
CAN'T MAKE IT?
Click "add to cart" below on the signed copy of
Bianco
and we'll have it signed and reserved for you. We also ship anywhere in the US and to most international locations! This is a Changing Hands EXCLUSIVE. Autographed copies are not available anywhere else.
ABOUT THE BOOK
The highly anticipated cookbook from the chef behind "the best pizza in America"
When Chris Bianco started Pizzeria Bianco inside the back corner of a neighborhood grocery store in 1988, he had no idea that he would be a driving force in the artisanal pizza movement. All he knew was that his food would be the result of his relationships with farmers, local producers, customers, and staff, reflecting the respect and sincere intention that he brings to each of his recipes.
Now the owner of a legendary pizza mecca and a James Beard award-winning chef, Chris Bianco brings us a full-color, fully illustrated cookbook illuminating the fundamentals of pizza making, from the basics of flour and water to the philosophy behind Bianco's cooking. The book features recipes for his signature pies as well as strategies and techniques for translating chef's methods to the home kitchen.
Bianco
celebrates both the simple and the nuanced, revealing the methods that lead to the perfect crust, the sweetest tomato sauce, the creamiest mozzarella, and the most expertly balanced flavor combinations. It also features recipes for market salads, tasting plates, and dessert options, as well as the staff meals that are cooked behind the scenes and a new array of main courses showcased at Chris's wildly popular restaurants. With its attention to detail and tips for making unforgettable, flavorful pies,
Bianco
is an essential companion for any serious pizza maker.
ABOUT THE AUTHOR
When CHRIS BIANCO started Pizzeria Bianco inside the back corner of a neighborhood grocery store in 1988, little did he know that he would be such a driving force in the slow food movement and specifically the artisanal pizza front. Chris, who won the James Beard Award for Best Chef: Southwest in 2003, helped spawn a generation of independent and artisanal pizzerias, lending his advice, wisdom and food philosophies to dozens of fellow chefs and restaurateurs.