Jay Mark and Ronald L. Peters
Buckhorn Mineral Baths & Wildlife Museum
7PM MONDAY, DECEMBER 11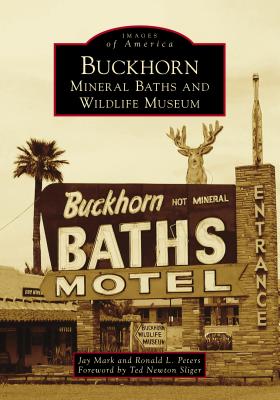 Local historian Jay Mark and preservation architect Ronald L. Peters present their book about the iconic local resort.
From fire to empire, the story of the Buckhorn baths is a rags-to-riches tale. After a disastrous 1935 Christmas Eve fire destroyed their small country gas station/taxidermy business, a new, unimagined door opened for Ted and Alice Sliger. In 1936, the Sligers began turning tragedy into triumph, transforming a dusty patch of scrub-covered desert eight miles east of Mesa into a legendary roadside oasis. Their chance discovery of mineral-laden hot springs led to the valley's first therapeutic spa. With the New York Giants' initial attraction to Buckhorn's mineral baths, a decades-long association with Major League Baseball helped pave the way to Cactus League baseball. By the time it closed in 1999, the Sligers had built the Buckhorn into an iconic, quintessential roadside business along the route of four federal highways. It was renowned for its celebrity guests, eclectic architecture, colorful neon, mineral spa, retreat for baseball players, wildlife museum, and wide-ranging collection of memorabilia.
ABOUT THE AUTHOR
JAY MARK, a popular local historian and writer, and RONALD L. PETERS, a leading regional preservation architect, have researched, documented, and advocated for the preservation of the Buckhorn since 1997. Working closely with the nonprofit Mesa Preservation Foundation, the Sliger family, and others, Mark and Peters filled this book with rare, unseen images, in tribute to one of Arizona's most unique roadside treasures.

$21.99
ISBN: 9781467126960
Availability: On Our Shelves Now
Published: Arcadia Publishing (SC) - November 20th, 2017
---