Steven Cooper
Desert Remains
7PM SATURDAY, DECEMBER 9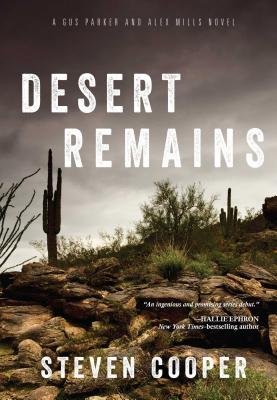 Cooper visits with his fourth novel, in which detective Alex Mills turns to psychic Gus Parker to help solve a series of murders by a killer who leaves his victims—and taunting clues—in the desert surrounding Phoenix.
Someone is filling the desert caves around Phoenix with bodies--a madman who, in a taunting ritual, is leaving behind a record of his crimes etched into the stone. With no leads and no suspects, Detective Alex Mills sees a case spinning out of control. City leaders want the case solved yesterday, and another detective wants to elbow Mills out of the way. As the body count rises, Mills turns to Gus Parker, an "intuitive medium" whose murky visions sometimes point to real clues. It's an unorthodox approach, but Mills is desperate.
When Parker is brought to the crime scenes, he sees visions of a house on fire and a screaming child. But what does it mean? He struggles to interpret his psychic messages, knowing that the killer is one step ahead and that in this vast desert, the next murder could happen anywhere. Nor does it help that he's always been unlucky in love and now finds himself the prey of a lovelorn stalker. She is throwing him off his game.
Someone will win this contest, and both Parker and Mills fear it will be the cunning, ruthless killer, who is able to use the trackless landscape as a cover for his brutal crimes.
ABOUT THE AUTHOR
STEVEN COOPER is a freelance writer, video producer, and the author of three previous novels. A former television reporter, he has received multiple Emmy awards and nominations, a National Edward R. Murrow Award, and Associated Press awards. He taught writing at Rollins College (Winter Park, FL) from 2007 to 2012.

$15.95
ISBN: 9781633883536
Availability: On Our Shelves Now
Published: Seventh Street Books - October 10th, 2017
---