Andrew Maynard: Films from the Future: Technology and Morality of Sci-Fi Movies
7PM TUESDAY, DECEMBER 4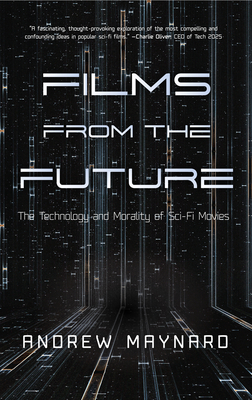 The author and physicist presents his latest book, bringing together his love of sci-fi movies and his expertise on emerging technologies to engage, entertain, and make readers think about the relationship between technology and society—all while discovering astounding, transformative advances in science.
Science, technology, and society:
In
Films from the Future
, former physicist Andrew Maynard threads together his love of science fiction movies with his expertise on emerging technologies to engage, entertain and make you think about the relationship between technology, and society as they discover astounding, transformative advances in science. Through the imagination and creativity of science fiction movies, Maynard introduces readers to the profound capabilities presented by new and emerging technologies, and the complex personal and societal challenges they present.
The future of artificial intelligence and other technologies:
Each movie in the book provides the starting point for exploring key technologies and trends, from genetic engineering (
Jurassic Park
) and brain-enhancing drugs (
Limitless
), to human augmentation (
Ghost in the Shell
), and artificial intelligence (
Ex Machina
). These are woven together with emerging ideas on technological convergence and responsible and ethical innovation, to provide a sweeping perspective on where our technologies are taking us, and how we ensure this is where we want to go.
The enlightening science and philosophies of movies:
With each examination of twelve movies, you will take a progressive journey through the fascinating worlds of biological and genetic manipulation, human enhancement and cyber technologies, and nanotechnology. Maynard shows that the fantastical worlds of the movies might not be as impossible as we think. With a focus on hard science, economics, the social implications of technological feats, and the movies that could very well become our real-life future,
Films from the Future
will be sure to educate and entertain.
Discover the surprising truth behind science fiction movies.
PARKING / LIGHT RAIL
Don't want to drive? Take the Light Rail! It lets off at the Central Avenue/Camelback Park-and-Ride, which has hundreds of free parking spaces across the street from Changing Hands.
ABOUT THE AUTHOR
ANDREW MAYNARD was born in Preston in the UK, and moved to the US in 2000. Following an early passion for science, he studied Physics at the University of Birmingham, graduating with his B.Sc.in 1987. After a brief interlude as a management trainee for Severn Trent Water (where he developed a fascination for water treatment and reclamation), he started studying for his doctoral degree in 1989, and graduated with an PhD in Electron Microscopy and Aerosol Physics from the University of Cambridge in 1993. Between 1992 and 1999 he conducted and led research into occupational aerosol exposure with the UK Health and Safety Executive, and in January 2000 he moved to the US to develop a research program addressing nano-particle exposure in the workplace, with the National Institute for Occupational Safety and Health.
Between 2002-2005, Andrew became increasingly involved in research into the potential health impacts of engineered nanomaterials, and was instrumental in establishing Federal research programs addressing possible risks. In 2005, he left the federal government, and was appointed Chief Science Advisor to the Project on Emerging Nanotechnologies at the Woodrow Wilson International Center for Scholars. Over the next few years, he cemented his reputation as a a leading scholar and communicator on the challenges and opportunities of developing emerging technologies safely and responsibly.
In 2008, Andrew was invited to join the World Economic Forum Council on Nanotechnology, and continues to work closely with the Forum on supporting socially responsible and beneficial innovation. In addition, since 2005, he has served on National Academy of Sciences committees on nanotechnology, and science communication, and has testified before congressional committees on a number of occasions on responsible technological development.
In 2010, Andrew was appointed as the Charles and Rita Gelman Professor of Risk Science at the University of Michigan, and Director of the University of Michigan Risk Science Center, and between 2012-2014 he was chair of the University of Michigan Environmental Health Sciences department. Andrew moved to Arizona State Department in 2015 as a professor in the School for the Future of Innovation in Society, Director of the ASU Risk Innovation Lab, and Chair of the ASU Master of Science and Technology Policy program. Here, he continues his work on exploring and addressing the socially responsible and responsive development of emerging and converging technologies, including synthetic biology and gene editing, nanotechnology, and artificial intelligence.
Andrew is a widely recognized writer on science and technology, and is author of
Films from the Future: The Technology and Morality of Sci-Fi Movies
. In addition to his books and his blog, 2020 Science, he is a regular contributor to The Conversation and other media outlets. In 2012, he launched the YouTube channel Risk Bites as a platform for making the science of risk engaging and understandable to a wide audience.

$27.99
ISBN: 9781633539075
Availability: Not Available In-Store - Usually Ships from Warehouse in 1-5 Days
Published: Mango - November 15th, 2018
---