Jeff Pearlman with Dan Manucci: Football for a Buck: The Crazy Rise and Crazier Demise of the USFL
6PM THURSDAY, DECEMBER 20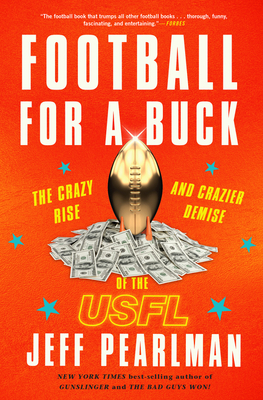 The New York Times bestselling author presents his book about the outrageous, "you-can't-make-this-up" story of the USFL.
The United States Football League—known to millions of sports fans as the USFL—was the last football league to not merely challenge the NFL, but to cause its owners and executives to collectively shudder. It spanned three seasons, 1983-85. It secured multiple television deals. It drew millions of fans and launched the careers of legends. But then it died beneath the weight of a particularly egotistical and bombastic owner—a New York businessman named Donald J. Trump. The league featured as many as 18 teams, and included such superstars as Steve Young, Jim Kelly, Herschel Walker, Reggie White, Doug Flutie and Mike Rozier.
In
Football for a Buck
, the dogged reporter and biographer Jeff Pearlman draws on more than four hundred interviews to unearth all the salty, untold stories of one of the craziest sports entities to have ever captivated America. From 1980s drug excess to airplane brawls and player-coach punch-outs, to backroom business deals, to some of the most enthralling and revolutionary football ever seen, Pearlman transports readers back in time to this crazy, boozy, audacious, unforgettable era of the game. He shows how fortunes were made and lost on the backs of professional athletes and also how, thirty years ago, Trump was a scoundrel and a spoiler.
Football for a Buck
is sports as high entertainment—and a cautionary tale of the dangers of ego and excess.
PARKING / LIGHT RAIL
Don't want to drive? Take the Light Rail! It lets off at the Central Avenue/Camelback Park-and-Ride, which has hundreds of free parking spaces across the street from Changing Hands.
ABOUT THE AUTHOR
JEFF PEARLMAN is the
New York Times
best-selling author of eight books, including
The Bad Guys Won!
,
Boys Will Be Boys
,
Showtime
,
Sweetness
and
Gunslinger
. He lives in Southern California with his wife Catherine and children, Casey and Emmett. He is the host of the
Two Writers Slinging Yang
podcast and blogs regularly at
jeffpearlman.com
.

$28.00
ISBN: 9780544454385
Availability: On Our Shelves Now
Published: Houghton Mifflin Harcourt - September 11th, 2018
---