HOSTED BY ARIZONA REPUBLIC REPORTER BARBARA VANDENBURGH
First Draft Book Club: Nothing to See Here by Kevin Wilson
7PM WEDNESDAY, DECEMBER 18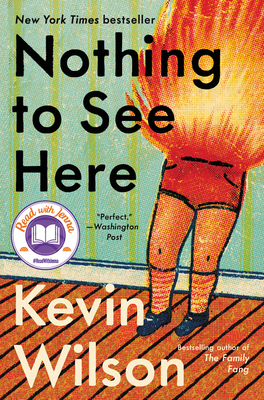 Join us at First Draft Book Bar (the wine and beer bar inside Changing Hands Phoenix) for a discussion of this month's pick, Nothing to See Here by Kevin Wilson.
Stop by Changing Hands Phoenix or Tempe (or order online by clicking "add to cart" below) to get your copy of
Nothing to See Here.
Then meet us and
Arizona Republic
reporter Barbara VanDenburgh at First Draft Book Bar to discuss the pick and enjoy
HAPPY HOUR
prices all through the event.
Sign up for Barbara VanDenburgh's weekly "Feel Good 5" newsletter
here
, and join our First Draft Book Club Facebook group
here
.
ABOUT THE BOOK
"I can't believe how good this book is.... It's wholly original. It's also perfect.... Wilson writes with such a light touch.... The brilliance of the novel [is] that it distracts you with these weirdo characters and mesmerizing and funny sentences and then hits you in a way you didn't see coming. You're laughing so hard you don't even realize that you've suddenly caught fire." —Taffy Brodesser-Akner, author of Fleishman is in Trouble, New York Times Book Review
From the New York Times bestselling author of The Family Fang, a moving and uproarious novel about a woman who finds meaning in her life when she begins caring for two children with a remarkable ability.
Lillian and Madison were unlikely roommates and yet inseparable friends at their elite boarding school. But then Lillian had to leave the school unexpectedly in the wake of a scandal and they've barely spoken since. Until now, when Lillian gets a letter from Madison pleading for her help.
Madison's twin stepkids are moving in with her family and she wants Lillian to be their caretaker. However, there's a catch: the twins spontaneously combust when they get agitated, flames igniting from their skin in a startling but beautiful way. Lillian is convinced Madison is pulling her leg, but it's the truth.
Thinking of her dead-end life at home, the life that has consistently disappointed her, Lillian figures she has nothing to lose. Over the course of one humid, demanding summer, Lillian and the twins learn to trust each other—and stay cool—while also staying out of the way of Madison's buttoned-up politician husband. Surprised by her own ingenuity yet unused to the intense feelings of protectiveness she feels for them, Lillian ultimately begins to accept that she needs these strange children as much as they need her—urgently and fiercely. Couldn't this be the start of the amazing life she'd always hoped for?
With white-hot wit and a big, tender heart, Kevin Wilson has written his best book yet—a most unusual story of parental love.
WHAT IS FIRST DRAFT BOOK CLUB?
First Draft Book Club is the official book club of
First Draft Book Bar
– the coffee, beer, and wine bar inside Changing Hands Phoenix. Every month,
Arizona Republic
reporter Barbara VanDenburgh picks a hot new book and hosts a guided book club discussion.
Co-sponsored by:

$21.59
ISBN: 9780062913463
Availability: On Our Shelves Now
Published: Ecco - October 29th, 2019
---