First Draft Book Club: Green Island by Shawna Yang Ryan
Hosted by Arizona Republic reporter Barbara VanDenburgh
7PM WEDNESDAY, MARCH 23
WHAT IS FIRST DRAFT BOOK CLUB?

First Draft Book Club is the official book club of First Draft Book Bar — the coffee, beer, and wine bar inside Changing Hands Phoenix. Every month, Arizona Republic reporter Barbara VanDenburgh picks a hot new book and hosts a guided book club discussion.

Co-sponsored by: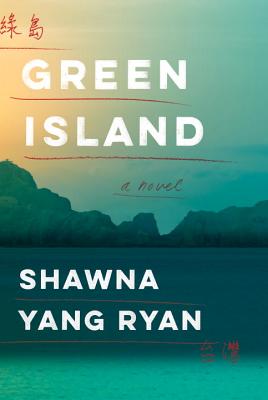 Join us at First Draft Book Bar (the wine and beer bar inside Changing Hands Phoenix) for a discussion of this month's pick, Shawna Yang Ryan's Green Island, an epic novel spanning five-and-a-half decades of Taiwanese history.
Stop by Changing Hands Phoenix or Tempe (or order online by clicking "
add to cart
" below) to get your copy of
Green Island
for
20% OFF
. Then, meet us and
Arizona Republic
reporter Barbara VanDenburgh at First Draft Book Bar (the wine, beer, and coffee bar inside Changing Hands Phoenix) at 7pm to discuss the pick and enjoy
HAPPY HOUR
prices all through the event.
You can also sign up for her weekly "Feel Good 5" newsletter here, and join our First Draft Book Club Facebook group here.
ABOUT THE BOOK
As
GREEN ISLAND
sweeps across six decades and two continents, the life of the narrator shadows the course of Taiwan's history from the end of Japanese colonial rule to the decades under martial law and, finally, to Taiwan's transformation into a democracy. But, above all, it's a story of a family and a nation grappling with the nuances of complicity and survival, raising the question: how far would you be willing to go for the ones you love?

$26.95
ISBN: 9781101874257
Availability: Special Order - Subject to Availability
Published: Knopf - February 23rd, 2016
Price: $21.56
List price: $26.95
You save: $5.39 (20% off)

"Shawna Yang Ryan's propulsive storytelling carries us through a bloody time in Taiwanese history, its implications still reverberating today. The story is haunted by questions about whether Taiwan is a part of China or its own country, what the costs are of standing up for one s beliefs and by the choices made by one father and his daughter. Green Island is a tough, unsentimental and moving novel that is a memorial not only to the heroes, but also to the survivors"
—Viet Thanh Nguyen, author of The Sympathizer

A stunning story of love, betrayal, and family, set against the backdrop of a changing Taiwan over the course of the twentieth century.

February 28, 1947: Trapped inside the family home amid an uprising that has rocked Taipei, Dr. Tsai delivers his youngest daughter, the unnamed narrator of Green Island, just after midnight as the city is plunged into martial law. In the following weeks, as the Chinese Nationalists act to crush the opposition, Dr. Tsai becomes one of the many thousands of people dragged away from their families and thrown into prison. His return, after more than a decade, is marked by alienation from his loved ones and paranoia among his community conflicts that loom over the growing bond he forms with his youngest daughter. Years later, this troubled past follows her to the United States, where, as a mother and a wife, she too is forced to decide between what is right and what might save her family the same choice she witnessed her father make many years before.
---