ONLINE ORDERING HAS BEEN TURNED OFF FOR THIS EVENT
Get your book and ticket in-store before the event, or by phone at 480.730.0205.
Lisa McMann
Dragon Captives (The Unwanteds Quests)
3PM SATURDAY, FEBRUARY 4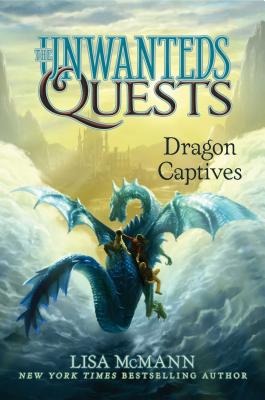 The New York Times bestselling author of The Unwanteds series and the Wake trilogy presents the first novel of a new series that takes place 10 years after The Unwanteds.
GET YOUR BOOK AND TICKET
Click "add to cart" at the bottom of the page. We'll send you an email confirmation, plus a second email with more details (usually within 24 hours).
EVENT GUIDELINES
Seating is determined by letter group (indicated on tickets) and opens at 2:30pm.
→ $17.99 + tax: One (1) copy of Dragon Captives and admission for one (1) adult and up to two (2) kids OR two (2) adults
Signing line forms after the event by letter group printed on tickets.
Event guidelines may be subject to changes.
CAN'T MAKE IT?
Click "add to cart" below on the signed copy of
Dragon Captives
and we'll have it signed and reserved for you. We also ship anywhere in the US and to most international locations!
PRE-ORDER PROMO:
When customers pre-order Dragon Captives, they'll get a signed copy of The Unwanteds Quests: Dragon Captives by Lisa McMann and receive an exclusive bookmark and mini-snake.

Once you have pre-ordered Dragon Captives, register HERE for a limited-edition Unwanteds booklet Including exclusive drawings, Fox and Kitten's Book of Songs and Stories, fill-in-the-blank stories, multiple crossword puzzles and word searches, plus more special Unwanteds extras!
ABOUT THE BOOK
Ten years after Alex and Aaron Stowe brought peace to Quill and Artime, their younger twin sisters journey beyond the islands in this first novel of a new sequel series to The Unwanteds, which Kirkus Reviews called
The Hunger Games
meets
Harry Potter
. Identical twins Fifer and Thisbe Stowe have amazing yet uncontrollable magical abilities. They're naturally more gifted than even their brother, Alex, the head mage of Artime, could hope to be. But when they accidentally use their magic in the jungle of Artime to strike down a beloved creature, Alex is furious, and threatens to lock them away until they can learn to control their power. The threat is soon forgotten, though, when Hux, the ice blue dragon, comes to Artime bearing the horrible news that his siblings have been enslaved by the notoriously evil Revinir, ruler of the dragon land. Seeking a chance to right their wrong and escape their brother's wrath, Thisbe, Fifer, and their friend Seth sneak away to rescue the dragons from grave peril. Will their untrained abilities be enough to save the dragons and themselves when they come face-to-face with the Revinir?
ABOUT THE AUTHOR
LISA MCMANN is the
New York Times
bestselling author of the middle grade dystopian fantasy series The Unwanteds, the YA paranormal Wake trilogy, and several other books for kids and teens. She lives with her family in the Phoenix area.