Kevin Smokler: Brat Pack America: A Love Letter to '80s Teen Movies
Kevin Smokler: Brat Pack America: A Love Letter to '80s Teen Movies
7PM THURSDAY, FEBRUARY 2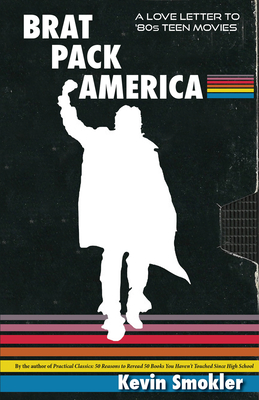 The writer, performer, and public speaker presents his latest, a "love letter" to '80s teen movies.
From the fictional towns of Hill Valley, CA, and Shermer, IL, to the beautiful landscapes of the "Goondocks" in Astoria and the "time of your life" dirty dancing resort still alive and well in Lake Lure, NC, '80s teen movies left their mark not just on movie screen and in the hearts of fans, but on the landscape of America itself. Like few other eras in movie history, the '80s teen movies has endured and gotten better with time. In
Brat Pack America
, Kevin Smokler gives virtual tours of your favorite movies while also picking apart why these locations are so important to these movies.
Including interviews with actors, writers, and directors of the era, and chock full of interesting facts about your favorite '80s movies,
Brat Pack America
is a must for any fan. Smokler went to Goonies Day in Astoria, OR, took a Lost Boys tour of Santa Cruz, CA, and deeply explored every nook and cranny of the movies we all know and love, and it shows.
ABOUT THE AUTHOR
Kevin Smokler is the author of
Brat Pack America: A Love Letter to 80s Teen Movies
(2016), the essay collection
Practical Classics: 50 Reasons to Reread 50 Books you Haven't Touched Since High School
(Prometheus Books, Feb. 2013) and the editor of
Bookmark Now: Writing in Unreaderly Times
, A San Francisco Chronicle Notable Book of 2005. His essays on pop culture have appeared in the LA Times, Buzzfeed, Salon, Vulture and on National Public Radio.
Kevin Smokler sits on the future of media and culture at companies (AOL), conferences (SXSW, The Idea Festival) and universities (M.I.T, Stanford, University of Michigan) throughout North America.

$16.95
ISBN: 9781942600671
Availability: On Our Shelves Now
Published: Rare Bird Books, a Vireo Book - October 11th, 2016
---