CHANGING HANDS BOOK CLUB
Found in Translation: Troll: A Love Story by Johanna Sinisalo
7PM WEDNESDAY, FEBRUARY 7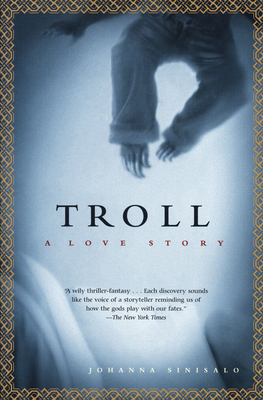 Join us as we discuss this month's pick, Troll: A Love Story by Johanna Sinisalo, winner of the Finlandia Award. A novel of sparkling originality, Troll is a wry, beguiling story of nature and man's relationship to wild things, and of the dark power of the wildness in ourselves.
Whether you're a seasoned traveler, a voracious reader, or a dreamer who wants to see the world, all are invited to our newest book club focused on international literature. Sometimes visiting other countries doesn't always give travelers an insider's view into foreign cultures; sometimes we are still too outside, too different, to get at the heart of a place. Often the best way to understand distant lands and peoples is to read their literature, to get inside the head of a foreign author, to hear their myths and fairy tales molded around words they penned in their mother tongue.
In Found in Translation we will delve into a work of international literature in a small group setting while enjoying coffee, beer, or wine drinks from First Draft Book Bar, located in Changing Hands Phoenix.
Stop by Changing Hands Phoenix or Tempe (or order online by clicking "add to cart" below) to get your copy of
Troll: A Love Story
for 10% OFF.

Then meet us at First Draft Book Bar to discuss the pick and enjoy HAPPY HOUR prices all through the event.
FREE PARKING / LIGHT RAIL
There is plenty of free public parking west of Changing Hands Phoenix, at 400 and 444 West Camelback. Additional free public parking across Camelback to the south.
Don't want to drive? Take the Light Rail! It lets off at the Central Avenue/Camelback Park-and-Ride, which has hundreds of free parking spaces across the street from Changing Hands.
ABOUT THE BOOK
Angel, a young photographer, comes home from a night of carousing to find a group of drunken teenagers in the courtyard of his apartment building, taunting a wounded, helpless young troll. He takes it in, not suspecting the dramatic consequences of this decision. What does one do with a troll in the city? As the troll's presence influences Angel's life in ways he could never have predicted, it becomes clear that the creature is the familiar of man's most forbidden feelings.

$13.50
ISBN: 9780802141293
Availability: On Our Shelves Now
Published: Grove Press - February 19th, 2004
---