IN CONVERSATION WITH TOMAS ROBLES (LUCHA)
Francisco Cantú: The Line Becomes a River
7PM SATURDAY, FEBRUARY 24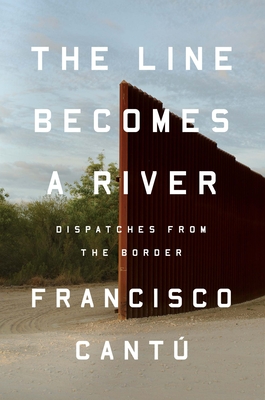 Francisco Cantu in conversation with LUCHA executive director Tomas Robles
Cantú and Robles will discuss Cantú's time as a Border Patrol agent—and the reasons he left the agency to advocate for changes to a system Cantú says normalizes violence and dehumanizes migrants as individuals and as a society.
For Cantú, the border is in the blood: his mother, a park ranger and daughter of a Mexican immigrant, raised him in the scrublands of the Southwest. Haunted by the landscape of his youth, Cantú joins the Border Patrol. He and his partners are posted to remote regions crisscrossed by drug routes and smuggling corridors, where they learn to track other humans under blistering sun and through frigid nights. They haul in the dead and deliver to detention those they find alive. Cantú tries not to think where the stories go from there. Plagued by nightmares, he abandons the Patrol for civilian life. But when an immigrant friend travels to Mexico to visit his dying mother and does not return, Cantú discovers that the border has migrated with him, and now he must know the whole story. Searing and unforgettable,
The Line Becomes a River
makes urgent and personal the violence our border wreaks on both sides of the line.
ABOUT THE AUTHOR
FRANCISCO CANTÚ served as an agent for the United States Border Patrol from 2008 to 2012, working in the deserts of Arizona, New Mexico, and Texas. A former Fulbright fellow, he is the recipient of a Pushcart Prize and a 2017 Whiting Award. His writing and translations have been featured in
Best American Essays
,
Harper's
,
n+1
,
Orion
, and
Guernica
, as well as on
This American Life
. He lives in Tucson.
ABOUT THE MODERATOR
TOMAS E. ROBLES JR. currently serves as Executive Director of Living United for Change in Arizona (LUCHA). A member-driven organization that has played a key role the recent movement in Arizona to bring attention to wage inequality and worker rights through various campaigns in the past few years. Tomas became involved in grassroots organizing and activism after Senate Bill 1070, an anti-immigration bill that would have led to racial-profiling in Arizona, passed. Since then, Tomas has worked with various organizations working various issues such as immigrant and worker rights, Veteran's issues and housing discrimination. Tomas is the son of Mexican immigrants, born in Tucson, AZ, and raised in Phoenix, Arizona. He is a veteran of the United States Marine Corps and is a graduate of Arizona State University with a Bachelor of Arts in Trans-border studies with an emphasis on immigration policy and economy.

$26.00
ISBN: 9780735217713
Availability: On Our Shelves Now
Published: Riverhead Books - February 6th, 2018
---