Karen Sands: The Ageless Way - It's Never Too Late to Rock Your Age!
7PM THURSDAY, FEBRUARY 8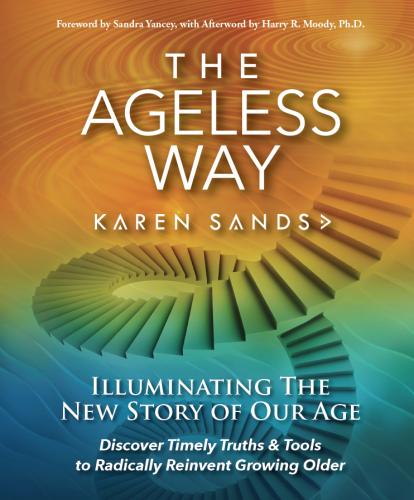 Leading "GeroFuturist" and bestselling author Karen Sands presents her new book.
From the publisher:
Calling all evolving "New-Agers!"…and all of you who don't even realize that's what you are yet. Be part of shaping the new Ageless story for our times—one that transcends age in the workplace, the marketplace and in your place!
In her no-holds-barred style, Karen will blend intimate storytelling, historical insights and cutting-edge ideas into a powerful presentation which shifts paradigms and turns what you think you know about aging inside out and upside down. In this engaging presentation, we'll discuss these ideas and share our personal hopes, goals, and heartfelt questions about the future and our place in it as we age. It's a must for anyone who wants to Rock Your AGE by radically redefining growing older and by reimagining the future together to transform our evolving world in visionary ways.
Yours and our new Ageless story reminds people of all ages that the time is NOW to Rock Your AGE! …and it's also tomorrow, and the next year after that.
FREE PARKING / LIGHT RAIL
There is plenty of free public parking west of Changing Hands Phoenix, at 400 and 444 West Camelback. Additional free public parking across Camelback to the south.
Don't want to drive? Take the Light Rail! It lets off at the Central Avenue/Camelback Park-and-Ride, which has hundreds of free parking spaces across the street from Changing Hands.
ABOUT THE AUTHOR
KAREN SANDS, MCC, BCC, is the leading GeroFuturist™ and thought leader on the Longevity Economy, Positive Aging, Ageless Generations and Ageless Leadership, radical reinvention, the business of aging, women and the future. A Visionary Master Coach & Mentor, Consultant­Strategist, Motivational Speaker, Educator, Expert Trainer, Bestselling Author, and All­Around Game-Changer, Karen's mission is to inspire those 40+ to own their age, find their voice and move confidently towards their highest vision—one which supports a new story for our times. A story with unlimited potential. Karen has spent decades transforming the conversation around aging—culminating in paving a more vibrant, age-friendly way forward in the 21st century. She capitalizes on tomorrow's trends today to illuminate a new story, a narrative fostering a life of unlimited meaning, satisfaction, impact and legacy-making, as well as money-making futures that matter. Karen shakes up limiting perceptions and outmoded thinking, transforming them into new possibilities transforming aging and turning ageism on its head. Her work aims to catapult us to the forefront of the business of aging as innovative social entrepreneurs, change-makers, visionary leaders, and discerning high-value consumers. By bringing together the best practices of sustainable business with
avant-garde
approaches to timeless living and unlimited Ageless Aging, she prepares us to generate and utilize new innovative intergenerational gero-businesses and services that rock our age.

$24.99
ISBN: 9780984926022
Availability: On Our Shelves Now
Published: Broad Minded Publishing - December 31st, 1969
---