Claire Evans: Broad Band: The Untold Story of Women Who Made the Internet
7PM TUESDAY, FEBRUARY 26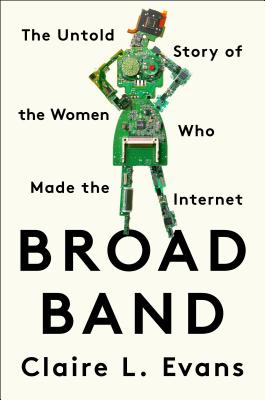 VICE reporter and YACHT lead singer Claire L. Evans finally gives the women who brought you the internet—written out of history, until now—their proper due with her breakthrough history of the "Broad Band," the women who made the internet what it is today.
The history of technology you probably know is one of men and machines, garages and riches, alpha-nerds and "bro"grammers. But female visionaries have always been at the vanguard of technology and innovation. In fact, women turn up at the very beginning of every important wave in technology. They may have been hidden in plain sight, their inventions and contributions touching our lives in ways we don't even realize, but they have always been part of the story. Join the ranks of the pioneers who defied social convention to become database poets, information-wranglers, hypertext dreamers, and glass ceiling-shattering dot com-era entrepreneurs. This inspiring call to action shines a light on the bright minds whom history forgot, and shows us how they will continue to shape our world in ways we can no longer ignore. Welcome to the Broad Band. You're next.
Co-presented by ASU's School for the Future of Innovation in Society.
PARKING / LIGHT RAIL
Don't want to drive? Take the Light Rail! It lets off at the Central Avenue/Camelback Park-and-Ride, which has hundreds of free parking spaces across the street from Changing Hands.
ABOUT THE AUTHOR
CLAIRE L. EVANS is a writer and musician. She is the singer and coauthor of the pop group YACHT, and the founding editor of Terraform,
VICE's
science-fiction vertical. She is the former futures editor of Motherboard, and a contributor to
VICE
, the
Guardian
,
WIRED
, and
Aeon
; previously, she was a contributor to
Grantland
and wrote
National Geographic
's popular culture and science blog, Universe. She is an advisor to design students at Art Center College of Design and a member of the cyberfeminist collective Deep Lab. She lives in Los Angeles.

$27.00
ISBN: 9780735211759
Availability: On Our Shelves Now
Published: Portfolio - March 6th, 2018
---