TWEEN EVENT
Club Read: The Letter For The King
2PM SATURDAY, FEBRUARY 2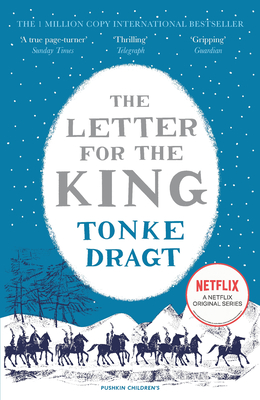 Calling all tweens! Join us for free grub from Clockwork Pizza as we discuss Tonke Dragt's The Letter For The King.
Club Read Badge Members: Get three points for attending the meeting, and one point when you purchase the month's pick at Changing Hands Bookstore. Don't have a free club read badge? Ask a bookseller how to get one!
CLUB READ IN PHOENIX
We will also be discussing
The Letter For The King
at 2pm on Saturday, February 2, 2019 at Changing Hands Phoenix's Club Read meeting.
More info »
ABOUT THE BOOK
It is the dead of night. Sixteen-year-old Tiuri must spend hours locked in a chapel in silent contemplation if he is to be knighted the next day. But, as he waits by the light of a flickering candle, he hears a knock at the door and a voice desperately asking for help. A secret letter must be delivered to King Unauwen across the Great Mountains - a letter upon which the fate of the entire kingdom depends. Tiuri has a vital role to play, one that might cost him his knighthood.
Tiuri's journey will take him through dark, menacing forests, across treacherous rivers, to sinister castles and strange cities. He will encounter evil enemies who would kill to get the letter, but also the best of friends in the most unexpected places. He must trust no one. He must keep his true identity secret. Above all, he must never reveal what is in the letter...
The Letter for the King
is the thrilling story of one boy's battle against evil, set in an enchanted world of chivalry, courage and true friendship.
WHAT IS CLUB READ?
Great books, prize giveaways, tasty treats, author visits and more — it's all part of our free Club Read program for kids, and you're invited! We meet once a month to discuss a book, do some fun activities, and have a great time. Sign up today (it's free!) and start earning points towards all kinds of cool prizes.
More info »

$15.95
ISBN: 9781782690818
Availability: Backordered
Published: Pushkin Children's Books - September 4th, 2018
---