CHANGING HANDS BOOK CLUB
Found in Translation: The End of Days by Jenny Erpenbeck, translated by Susan Bernofsky
7PM WEDNESDAY, FEBRUARY 13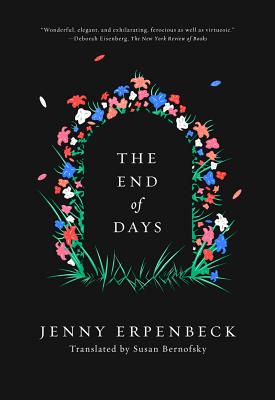 This month we'll discuss The End of Days by Jenny Erpenbeck, translated by Susan Bernofsky.
Whether you're a seasoned traveler, a voracious reader, or a dreamer who wants to see the world, all are invited to our newest book club focused on international literature. Sometimes visiting other countries doesn't always give travelers an insider's view into foreign cultures; sometimes we are still too outside, too different, to get at the heart of a place. Often the best way to understand distant lands and peoples is to read their literature, to get inside the head of a foreign author, to hear their myths and fairy tales molded around words they penned in their mother tongue.
In Found in Translation, we will delve into a work of international literature in a small group setting while enjoying coffee, beer, or wine drinks from First Draft Book Bar, located in Changing Hands Phoenix.
Stop by Changing Hands Phoenix or Tempe (or order online by clicking "add to cart" below) to get your copy of
The End of Days
for
20% OFF
.
Then meet us at First Draft Book Bar to discuss the pick and enjoy
HAPPY HOUR
prices all through the event.
FREE PARKING / LIGHT RAIL
Don't want to drive? Take the Light Rail! It lets off at the Central Avenue/Camelback Park-and-Ride, which has hundreds of free parking spaces across the street from Changing Hands.
ABOUT THE BOOK
Winner of the Independent Foreign Fiction Prize and the Hans Fallada Prize,
The End of Days
, by the acclaimed German writer Jenny Erpenbeck, consists essentially of five "books," each leading to a different death of the same unnamed female protagonist. How could it all have gone differently?--the narrator asks in the intermezzos. The first chapter begins with the death of a baby in the early twentieth-century Hapsburg Empire. In the next chapter, the same girl grows up in Vienna after World War I, but a pact she makes with a young man leads to a second death. In the next scenario, she survives adolescence and moves to Russia with her husband. Both are dedicated Communists, yet our heroine ends up in a labor camp. But her fate does not end there....
A novel of incredible breadth and amazing concision,
The End of Days
offers a unique overview of the twentieth century.

$15.95
ISBN: 9780811225137
Availability: Not Available In-Store - Usually Ships from Warehouse in 1-5 Days
Published: New Directions Publishing Corporation - February 8th, 2016
---