Hanif Abdurraqib: Go Ahead in the Rain: Notes to a Tribe Called Quest
7PM FRIDAY, FEBRUARY 22
ONLINE ORDERING HAS BEEN TURNED OFF FOR THIS EVENT
Get your book and ticket in-store before the event, or by phone at 602.274.0067.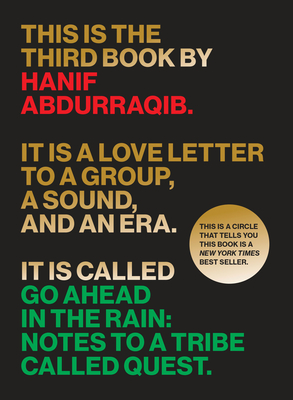 Poet, essayist, and cultural critic Hanif Abdurraqib discusses and signs copies of his latest book.
How does one pay homage to A Tribe Called Quest? The seminal rap group brought jazz into the genre, resurrecting timeless rhythms to create masterpieces such as
The Low End Theory
and
Midnight Marauders
. Seventeen years after their last album, they resurrected themselves with an intense, socially conscious record,
We Got It from Here . . . Thank You 4 Your Service
, which arrived when fans needed it most, in the aftermath of the 2016 election. Abdurraqib digs into the group's history and draws from his own experience to reflect on how its distinctive sound resonated among fans like himself. The result is as ambitious and genre-bending as the rap group itself. Whether he's remembering
The Source
magazine cover announcing the Tribe's 1998 breakup or writing personal letters to the group after bandmate Phife Dawg's death, Abdurraqib seeks the deeper truths of A Tribe Called Quest; truths that—like the low end, the bass—are not simply heard in the head, but felt in the chest.
PARKING / LIGHT RAIL
Don't want to drive? Take the Light Rail! It lets off at the Central Avenue/Camelback Park-and-Ride, which has hundreds of free parking spaces across the street from Changing Hands.
ABOUT THE AUTHOR
Hanif Abdurraqib is a poet, essayist, and cultural critic from Columbus, Ohio. His poetry has been published in
Muzzle
,
Vinyl
,
PEN American
, and various other journals. His essays and music criticism have been published in
The FADER
,
Pitchfork
,
The New Yorker
, and
The New York Times
. His first full length poetry collection,
The Crown Ain't Worth Much
, was released in June 2016 from Button Poetry. It was named a finalist for the Eric Hoffer Book Prize, and was nominated for a Hurston-Wright Legacy Award. With Big Lucks, he released a limited edition chapbook,
Vintage Sadness
, in summer 2017 (you cannot get it anymore and he is very sorry.) His first collection of essays,
They Can't Kill Us Until They Kill Us
, was released in winter 2017 by Two Dollar Radio and was named a book of the year by
Buzzfeed
,
Esquire
,
NPR
,
Oprah Magazine
,
Paste
,
CBC
,
The Los Angeles Review
,
Pitchfork
, and
The Chicago Tribun
e, among others. He is a Callaloo Creative Writing Fellow, an interviewer at
Union Station Magazine
, and a poetry editor at
Muzzle Magazine
. He is a member of the poetry collective Echo Hotel with poet/essayist Eve Ewing.
His next books are
Go Ahead In The Rain
, a biography of A Tribe Called Quest due out in 2019 by University of Texas Press, and
They Don't Dance No' Mo
', due out in 2020 by Random House. Yes, he would like to talk to you about your favorite bands and your favorite sneakers.