TWEEN EVENT
Club Read: Clean Getaway
2PM SATURDAY, FEBRUARY 1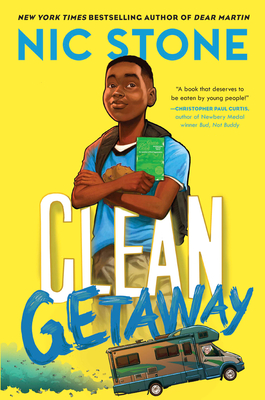 Calling all tweens! Join us for free grub from Streets of New York as we discuss Nic Stone's Clean Getaway.
Club Read Badge Members: Get three points for attending the meeting, and one point when you purchase the month's pick at Changing Hands Bookstore. Don't have a free club read badge? Ask a bookseller how to get one!
CLUB READ IN TEMPE
We will also be discussing
Clean Getaway
at 2pm on Saturday, February 1, 2020 at Changing Hands Tempe's Club Read meeting.
More info »

ABOUT THE BOOK
From New York Times bestselling author Nic Stone comes a middle-grade road-trip story through American race relations past and present, perfect for Black History Month and for fans of Jacqueline Woodson and Jason Reynolds.

How to Go on an Unplanned Road Trip with Your Grandma:

Grab a Suitcase: Prepacked from the big spring break trip that got CANCELLED.

Fasten Your Seatbelt: G'ma's never conventional, so this trip won't be either.

Use the Green Book: G'ma's most treasured possession. It holds history, memories, and most important, the way home.

What Not to Bring:

A Cell Phone: Avoid contact with Dad at all costs. Even when G'ma starts acting stranger than usual.

Set against the backdrop of the segregation history of the American South, take a trip with New York Times bestselling Nic Stone and an eleven-year-old boy who is about to discover that the world hasn't always been a welcoming place for kids like him, and things aren't always what they seem--his G'ma included. Real historical elements like the Green Book, the subject and namesake of the recent Oscar winning film, make this an educational and powerful read.
WHAT IS CLUB READ?
Great books, prize giveaways, tasty treats, author visits and more — it's all part of our free Club Read program for kids, and you're invited! We meet once a month to discuss a book, do some fun activities, and have a great time. Sign up today (it's free!) and start earning points towards all kinds of cool prizes.
More info »

$16.99
ISBN: 9781984892973
Availability: On Our Shelves Now
Published: Crown Books for Young Readers - January 7th, 2020
---