Dr. Kixx Goldman: Speak from Your Heart and Be Heard: Stories of Courage and Healing
7PM THURSDAY, FEBRUARY 27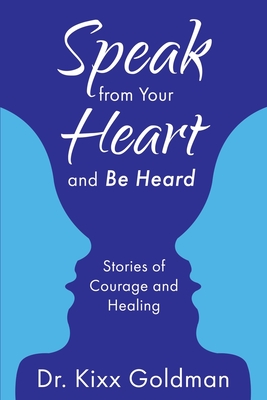 Author and psychologist Dr. Kixx Goldman presents her new collection of short stories inspired by her own experiences and those of her clients.
A devoted father and his daughter find hope in rewriting their past. With remarkable grit, a teacher escapes a surprise attack. A man conquers his fears and heals his childhood wounds. A therapist defies the establishment to protect her clients, and another stands up to the church. As the characters in these stories find the courage to triumph over their challenges, they heal and grow. "You, too," the author says, "can follow your inner voice, speak from your heart, claim your power, and fulfill your life."
Added feature: Kixx in conversation with author and editor, Windy Lynn Harris.
PARKING / LIGHT RAIL
Don't want to drive? Take the Light Rail! It lets off at the Central Avenue/Camelback Park-and-Ride, which has hundreds of free parking spaces across the street from Changing Hands.
ABOUT THE AUTHOR
Author and psychologist, Kixx Goldman, EdD, is a storyteller who loves writing fiction. Kixx treasures memories of her life in Vancouver, where she raised three children and acted in local theater. The vengeful Abigail in Arthur Miller's The Crucible was a favorite role.
Dr. Kixx earned graduate degrees from the University of British Columbia in educational and counseling psychology. In her private practice, she helped families and couples to resolve conflict, heal trauma and develop emotional intimacy. As consultant to the public schools, Kixx worked with learning disabled students to develop social and academic skills. Workshops on marital therapy, personal empowerment, and compassionate communication followed and her articles appeared in psychology journals and magazines.
Kixx migrated to Phoenix some years ago to retire her hip waders and pursue her passion for prose. Writing in her sunny home office, she takes inspiration from the resident family of quail outside her window. In summer, you can find Kixx and her husband Les, walking the seawall in Vancouver, contemplating the magical Siwash Rock and its legend. You can follow her on Facebook and Twitter and find out more about Kixx and her writing at www.drkixxgoldman.com.

$12.95
ISBN: 9781099162640
Availability: On Our Shelves Now
Published: Independently Published - June 6th, 2019
---