Kristina Kuzmic
Hold On, But Don't Hold Still: Hope and Humor from My Seriously Flawed Life
7PM WEDNESDAY, FEBRUARY 19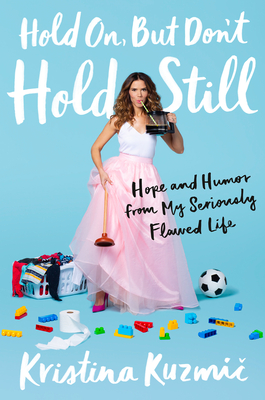 *The venue has changed from the Orpheum Theater to the Tempe location of Changing Hands Bookstore.
Author Kristina Kuzmic discusses and signs her new book – one woman's story of ditching her fairytale dreams and falling in love with her unpredictable, chaotic, imperfect life.
GET YOUR BOOK AND TICKET
Order your ticket package at the bottom of the page. We'll send you an email confirmation.
TICKET PACKAGES
→ Ticket Package 1: $33.24 + fees: Admission for one (1) person and one (1) signed copy of Hold On, But Don't Hold Still.
→ Ticket Package 2: $38.24 + fees: Admission for two (2) people and one (1) signed copy of Hold On, But Don't Hold Still.
Purchase below (at the bottom of the page).
EVENT GUIDELINES
CHECK-IN at the front information counter in Changing Hands Tempe beginning at 6pm.
PICK UP YOUR BOOK at Changing Hands Tempe on event day beginning at 6pm.
SEATING opens at 6:30pm and is determined by letter group printed on signing line voucher handed out at check-in.
SIGNING LINE forms after the event by letter group printed on signing line vouchers handed out at check-in.
EVENT GUIDELINES may be subject to changes.
REFUNDS will not be issued within one day of the event.
If you miss the event, tickets are non-refundable. In order to receive your book, you will need to contact us within 30 days of the event. After 30 days, you will receive a trade credit to Changing Hands Bookstore for the cost of the book plus tax.
CAN'T MAKE IT?
Call 480.730.0205 to order a signed copy of
Hold On, But Don't Hold Still
and we'll have it signed and reserved for you. We also ship anywhere in the US and to most international locations!
ABOUT THE BOOK
Kristina Kuzmic has made herself a household name, speaking directly to mothers from the trenches of parenthood via her viral videos and social media presence. She is now bringing her message of self-acceptance, resilience, and joy to book readers. With a refreshingly unpretentious, funny, and galvanizing voice, Kuzmic goes behind the scenes to reveal how she went from broke and defeated to unshakably grounded and brimming with thankfulness. Illuminating the hard-won wisdom from a life always spent one step behind--whether it was as a high school student new to America, a suddenly single mother to two kids, remarried and juggling two teens and a toddler, or the unexpected recipient of Oprah's attention and investment--
Hold On, But Don't Hold Still
is the book every mother needs to reassure her that she's not only fine just as she is, but that she already has more tools and support than she can possibly imagine. Sparkling with wit, this heartfelt memoir is like a long coffee date with a best friend, or the eleventh-hour text message that gives you just the boost you need to get through the night.
ABOUT THE AUTHOR
Kristina Kuzmic was born in Croatia and is a world-renowned speaker known for her unique insight and humor on family-related topics. She currently lives in Southern California with her husband, where her most important, rewarding, and exhausting careers include being a sanitation engineer, chef, chauffer, and conflict-resolution guru for her three (mostly satisfied) clients--her children.