Layla F. Saad: Me and White Supremacy: Combat Racism, Change the World, and Become a Good Ancestor
7PM MONDAY, FEBRUARY 3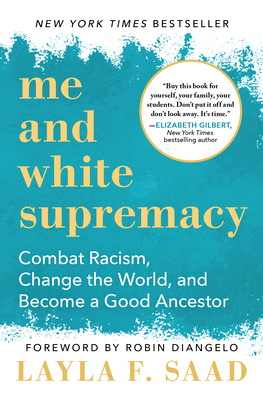 Author Layla F. Saad discusses her book covering the subjects of white supremacy and racial injustice.
"Layla Saad is one of the most important and valuable teachers we have right now on the subject of white supremacy and racial injustice."--New York Times bestselling author Elizabeth Gilbert
Based on the viral Instagram challenge that captivated participants worldwide, Me and White Supremacy takes readers on a 28-day journey of how to dismantle the privilege within themselves so that they can stop (often unconsciously) inflicting damage on people of color, and in turn, help other white people do better, too.
When Layla Saad began an Instagram challenge called #meandwhitesupremacy, she never predicted it would spread as widely as it did. She encouraged people to own up and share their racist behaviors, big and small. She was looking for truth, and she got it. Thousands of people participated in the challenge, and nearly 100,000 people downloaded the Me and White Supremacy Workbook.
Updated and expanded from the original workbook, Me and White Supremacy, takes the work deeper by adding more historical and cultural contexts, sharing moving stories and anecdotes, and including expanded definitions, examples, and further resources.
Awareness leads to action, and action leads to change. The numbers show that readers are ready to do this work--let's give it to them.

PARKING / LIGHT RAIL
Don't want to drive? Take the Light Rail! It lets off at the Central Avenue/Camelback Park-and-Ride, which has hundreds of free parking spaces across the street from Changing Hands.
ABOUT THE AUTHOR
Layla Saad is a globally respected writer, speaker and podcast host on the topics of race, identity, leadership, personal transformation and social change.
As an East African, Arab, British, Black, Muslim woman who was born and grew up in the West, and lives in Middle East, Layla has always sat at a unique intersection of identities from which she is able to draw rich and intriguing perspectives. Layla's work is driven by her powerful desire to 'become a good ancestor'; to live and work in ways that leave a legacy of healing and liberation for those who will come after she is gone.
Me and White Supremacy is Layla's first book. Initially offered for free following an Instagram challenge under the same name, the bestselling digital Me And White Supremacy Workbook was downloaded by close to ninety thousand people around the world in the space of six months, before becoming a traditionally published book. Layla's work has been brought into homes, educational institutions and workplaces around the world that are seeking to create personal and collective change.
Layla earned her Bachelor of Law degree from Lancaster University in the United Kingdom. She lives in Doha, Qatar with her husband, Sam, and two children, Maya and Mohamed. Find out more about Layla at www.laylafsaad.com.

$25.99
ISBN: 9781728209807
Availability: On Our Shelves Now
Published: Sourcebooks - January 28th, 2020
---