TWEEN EVENT
Lisa McMann
Dragon Fire (The Unwanteds Quests #5)
2PM SUNDAY, FEBRUARY 2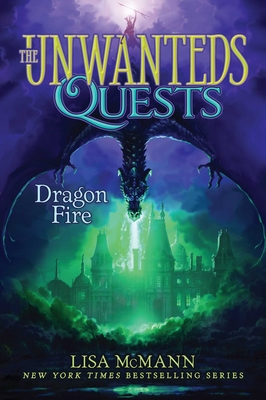 The New York Times bestselling author presents the fifth novel in the bestselling sequel series to The Unwanteds, which Kirkus Reviews called "The Hunger Games meets Harry Potter."
For attendees only, Lisa is bringing an extra special secret gift exclusive to the Changing Hands event.
GET YOUR BOOK AND TICKET
Order your ticket package at the bottom of the page. Or through the Eventbrite page. We'll send you an email confirmation.
TICKET PACKAGE
→ Ticket Package 1: $20.53 + fees: One (1) copy of Dragon Fire, admission for one (1) person
→ Ticket Package 1: $24.53 + fees: One (1) copy of Dragon Fire, admission for two (2) people.
→ Ticket Package 1: $28.53 + fees: One (1) copy of Dragon Fire, admission for three (3) people.
EVENT GUIDELINES
CHECK-IN at the front information counter in Changing Hands Tempe beginning at 1pm.
PICK UP YOUR BOOK at Changing Hands Tempe on event day beginning at 1pm.
SIGNING LINE forms by letter group printed on signing line vouchers handed out at check-in.
EVENT GUIDELINES may be subject to changes.
REFUNDS will not be issued within one day of the event.
CAN'T MAKE IT?
Call 480.730.0205 to order a signed copy of
Dragon Fire
and we'll have it signed and reserved for you. We also ship anywhere in the US and to most international locations!
PRE-ORDER PROMO:
When you purchase your copy from Changing Hands, you'll get a signed copy of The Unwanteds Quests: Dragon Fire by Lisa McMann and receive a Simber poster designed by Kilian McMann, a heart attack spell component, a surprise mini critter figurine, and a dragon pin! While supplies last.
ABOUT THE BOOK
Artimé is at war.
Led by the reckless new head mage, Frieda Stubbs, and swayed by her stoking their fear of the Revinir's return, the people of Artimé have turned against the Stowe family. Aaron and his allies are captured while Fifer is left exposed to mortal danger.
Thisbe and the team of black-eyed children from Grimere journey to Artimé to help, leaving Dev behind to fend for himself against the increasingly powerful Revinir. Thisbe grapples with guilt and worry from multiple directions as her relationship with Fifer continues its downward spiral.
When things are at their bleakest and everything is on the line, Fifer is forced to make a decision that could change her destiny forever.
ABOUT THE AUTHOR
Lisa McMann lives in Sacramento, California. She is married to fellow writer and musician, Matt McMann, and they have two adult children. Her son is an artist named Kilian McMann and her daughter is an actor, Kennedy McMann. Lisa is the
New York Times
bestselling author of over two dozen books for young adults and children. So far she has written in genres including paranormal, realistic, dystopian, and fantasy. Some of her most well-known books are The Unwanteds series for middle grade readers and the Wake trilogy for young adults. Check out Lisa's website at LisaMcMann.com, learn more about The Unwanteds Series at UnwantedsSeries.com, and be sure to say hi on Instagram or Twitter (@Lisa_McMann), or Facebook (Facebook.com/McMannFan).