AUTHOR EVENT
Mary-Frances O'Connor: The Grieving Brain
7PM TUESDAY, FEBRUARY 8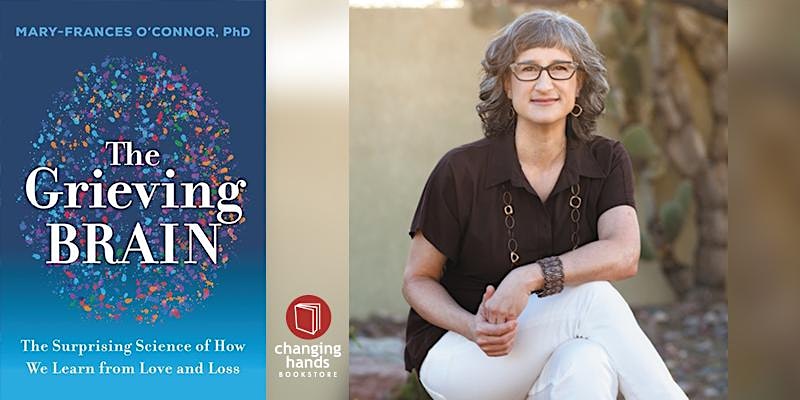 LOCATION | IN-PERSON: TEMPE
A limited number of free tickets are available. You can also support Changing Hands by purchasing the book via Eventbrite below, or by contributing what you can. A suggested contribution of $10 or $20—whatever you can afford—will help keep our virtual event series sustainable and accessible to all. Thank you!
Author and associate professor of psychology at the University of Arizona, Mary-Frances O'Connor, Ph.D. discusses and signs copies of her book at the Tempe Store.
ABOUT THE BOOK
In The Grieving Brain renowned grief expert and neuroscientist, Mary-Frances O'Connor shares groundbreaking discoveries about what happens in our brain when we grieve, providing a new paradigm for understanding love, loss, and learning. In this book, O'Connor makes cutting-edge neuroscience accessible through her contagious enthusiasm, and guides us through how we encode love and grief. With love, our neurons help us form attachments to others; but, with loss, our brain must come to terms with where our loved ones went, or how to imagine a future that encompasses their absence. Based on O'Connor's own trailblazing neuroimaging work, research in the field, and her real-life stories, The Grieving Brain does what the best popular science books do, combining storytelling, accessible science, and practical knowledge that helps us better understand what happens when we grieve and how to navigate loss with more ease and grace.

ABOUT THE AUTHOR
Mary-Frances O'Connor, Ph.D. is an associate professor of psychology at the University of Arizona where she directs the Grief, Loss, and Social Stress (GLASS) Lab in investigating the effects of grief on the brain and the body. Her work has been published in the American Journal of Psychiatry, Biological Psychiatry, and Psychological Science and featured in Newsweek, The New York Times, and The Washington Post. She lives in Tucson.