Brian McLaren: The Great Spiritual Migration
Brian McLaren: The Great Spiritual Migration
6PM SATURDAY, JANUARY 28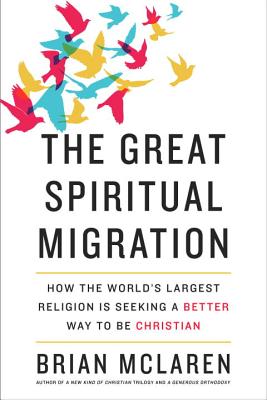 The theologian, author, and activist presents his latest book, arguing that the Christian faith is not dying but embarking on a once-in-an-era spiritual shift.
The Christian story, from Genesis until now, is fundamentally about people on the move—outgrowing old, broken religious systems and embracing new, more redemptive ways of life. It's time to move again.
Brian McLaren, a leading voice in contemporary religion, argues that— notwithstanding the dire headlines about the demise of faith and drop in church attendance—Christian faith is not dying. Rather, it is embarking on a once-in-an-era spiritual shift. For millions, the journey has already begun.
Drawing from his work as global activist, pastor, and public theologian, McLaren challenges readers to stop worrying, waiting, and indulging in nostalgia, and instead, to embrace the powerful new understandings that are reshaping the church. In
The Great Spiritual Migration
, he explores three profound shifts that define the change:
∙ Spiritually, growing numbers of Christians are moving away from defining themselves by lists of beliefs and toward a way of life defined by love.
∙ Theologically, believers are increasingly rejecting the image of God as a violent Supreme Being and embracing the image of God as the renewing Spirit at work in our world for the common good.
∙ Missionally, the faithful are identifying less with organized religion and more with organizing religion—spiritual activists dedicated to healing the planet, building peace, overcoming poverty and injustice, and collaborating with other faiths to ensure a better future for all of us.
ABOUT THE AUTHOR
BRIAN MCLAREN is an author, speaker, activist, and public theologian. A former college English teacher and pastor, he is a passionate advocate for "a new kind of Christianity" - just, generous, and working with people of all faiths for the common good. He is an Auburn Senior Fellow, a contributor to We Stand With Love, and a leader in the Convergence Network, through which he is developing an innovative training/mentoring program for pastors and church planters.

$21.00
ISBN: 9781601427915
Availability: On Our Shelves Now
Published: Convergent Books - September 20th, 2016
---