ONLINE ORDERING HAS BEEN TURNED OFF FOR THIS EVENT
Get your book and ticket in-store before the event, or by phone at 602.274.0067.
Clinton Kelly
I Hate Everyone, Except You
7PM THURSDAY, JANUARY 12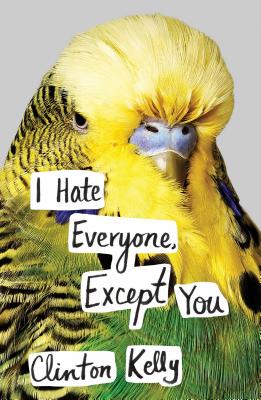 Bestselling author and "What Not to Wear" co-host Clinton Kelly presents his hilariously candid, deliciously snarky collection of essays about his journey from awkward kid to slightly-less-awkward adult.
GET YOUR BOOK AND TICKET
Click "add to cart" at the bottom of the page. We'll send you an email confirmation, plus a second email with more details (usually within 24 hours).
EVENT GUIDELINES
Seating is determined by letter group (indicated on tickets) and opens at 6:30pm.
→ $24.99 + tax: One (1) copy of I Hate Everyone, Except You and admission for two (2) people
Signing line forms after the event by letter group printed on tickets.
Pick up your copy of I Hate Everyone, Except You exclusively at the Phoenix store now through the night of the event.
Event guidelines may be subject to changes.
CAN'T MAKE IT?
Click "add to cart" below on the signed copy of
I Hate Everyone, Except You
and we'll have it signed and reserved for you. We also ship anywhere in the US and to most international locations!
ABOUT THE BOOK
Clinton Kelly is probably best known for teaching women how to make their butts look smaller. But in
I Hate Everyone, Except You
, he reveals some heretofore-unknown secrets about himself, like that he's a finicky connoisseur of 1980s pornography, a disillusioned critic of New Jersey's premier water parks, and perhaps the world's least enthused high-school commencement speaker.
Whether he's throwing his baby sister in the air to jumpstart her cheerleading career or heroically rescuing his best friend from death by mud bath, Clinton leaps life's social hurdles with aplomb. With his signature wit, he shares his unique ability to navigate the stickiest of situations, like deciding whether it's acceptable to eat chicken wings with a fork on live television (spoiler: it's not). Clinton delves into all these topics—and many more—in this thoroughly unabashedly frank and uproarious collection.
ABOUT THE AUTHOR
CLINTON KELLY is best known as the Emmy-award-winning co-host of
The Chew
on ABC, as well as the former co-host of the wildly popular makeover show
What Not to Wear
. Originally from Port Jefferson Station, New York, Clinton now resides with his husband, Damon, and dog, Mary, in Manhattan and Connecticut.