Colleen Huber, NMD: Manifesto for a Cancer Patient
7PM THURSDAY, JANUARY 18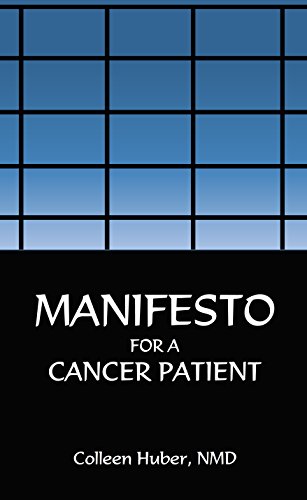 Naturopathic physician Colleen Huber, NMD, contrasts her 11-year clinical practice treating cancer patients naturally with the prevailing view that natural cancer treatments are impossible.
This is a manifesto for a patient's right to choose their own treatment, and a manual through the cancer journey. Huber also discusses her own experience with alternatives to chemotherapy.
What choices do cancer patients have? Why do those choices seem so few?
This book is a manifesto for patient rights and a manual through the cancer journey, from a Naturopathic Medical Doctor. A newly diagnosed cancer patient is told: "There is nothing else that works against your cancer except chemotherapy and radiation. So you are going to start chemo now." After several chemo drugs are tried over the course of months to years, the cancer patient must then hear: "There is nothing more that can be done for your cancer, and it is time to go to hospice." Then death is blamed on cancer rather than deception and inappropriate treatments.
It doesn't have to be this way. Completely different treatments for cancer exist and are discussed in this book. Cancer patients who choose naturopathic treatments over chemotherapy are berated by those who had already decided on a treatment plan. Naturopathic physicians treat cancer patients, and are criticized for doing so by oncologists. Is the war against cancer, or against any alternatives to the status quo?
ABOUT THE AUTHOR
COLLEEN HUBER, NMD, is a Naturopathic Medical Doctor in Tempe, Arizona. She was the Keynote Speaker at the 2015 Euro Cancer Summit, the 2016 World Congress on Cancer Therapy, and a Keynote Speaker at the 2016 and 2017 World Congress on Breast Cancer. Dr. Huber is President of the Naturopathic Cancer Society. She is a Naturopathic Oncologist and Fellow of the Naturopathic Oncology Research Institute. She authored the largest and longest study in medical history on sugar intake in cancer patients, which was reported in media around the world in 2014. Her other writing includes her book,
Choose Your Foods Like Your Life Depends On Them
, and she has been featured in the books
America's Best Cancer Doctors
and
Defeat Cancer
. Her academic writing has appeared in The Lancet and Cancer Strategies Journal, and other medical journals. Her research interests are in the use of therapeutic approaches targeting metabolic aspects of cancer.

$20.00

ISBN: 9780692983478
Availability: Special Order - Subject to Availability
Published: Medical Choice Editions -
---