Karen Crouse: Norwich: One Tiny Vermont Town's Secret to Happiness and Excellence
7PM TUESDAY, JANUARY 23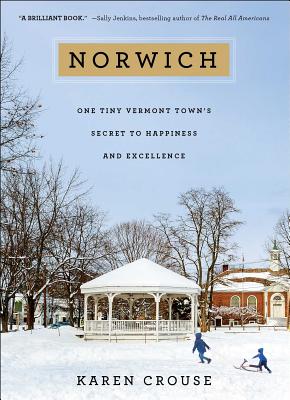 New York Times sportswriter Karen Crouse shares her debut, Norwich, the extraordinary story of the small Vermont town that has produced more Olympians per capita than any other place in the country—and whose citizens provide a model for achieving excellence while leading a well-rounded life.
How does Norwich do it? To answer this question, Crouse moved to Vermont, immersing herself in the lives of Norwich Olympians past and present. There, amidst the organic farms and clapboard colonial buildings, she discovered a culture that's the opposite of the hyper-competitive schoolyard of today. In Norwich, kids aren't cut from teams. They don't specialize in a single sport, and they even root for their rivals. What's more, their hands-off parents encourage them to simply enjoy themselves. Making it to the Olympics is seen not as the pinnacle of an athlete's career but as a fun stop on the way to achieving other, longer-lasting dreams. Norwich, Crouse realized, wasn't just raising better athletes than the rest of America; it was raising happier, healthier kids.
ABOUT THE AUTHOR
KAREN CROUSE is an award-winning sportswriter who has been on the staff of
The New York Times
since 2005. She is a graduate of the University of Southern California.
Norwich
is her first book.

$26.00
ISBN: 9781501119897
Availability: On Our Shelves Now
Published: Simon & Schuster - January 23rd, 2018
---