Steven Stralser, Ph.D.: MBA in a Day 2.0: What You Would Learn at Top-Tier Business Schools (If You Only Had the Time!)
6PM FRIDAY, JANUARY 12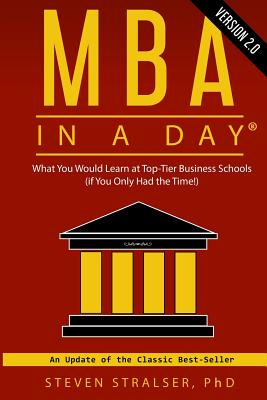 Thunderbird Professor Emeritus Steven Stralser discusses and signs his newly-updated classic business bestseller.
Who has the time or money for an MBA? You have a job, a professional practice, or a business to start or grow.
Business skills, however, are essential for success whether you're a doctor, lawyer, engineer, working in a non-profit organization or building your own business. Understanding basic concepts of economics, marketing, management, leadership, finance, and accounting will be the fuel for your drive and passion to succeed.
MBA in a DAY 2.0 tackles business fundamentals in a simple and engaging manner. Professor Steven Stralser, PhD, makes it easy to grasp the basics of business: how to manage people, how to manage money, how to manage markets, and how to manage business systems. These four areas of exploration will deepen your understanding of how the business world works.
Not everyone has time to take a class, but if you learn just one new concept every time you open this book, you'll be well on your way to build your own MBA.
FREE PARKING / LIGHT RAIL
There is plenty of free public parking west of Changing Hands Phoenix, at 400 and 444 West Camelback. Additional free public parking across Camelback to the south.
Don't want to drive? Take the Light Rail! It lets off at the Central Avenue/Camelback Park-and-Ride, which has hundreds of free parking spaces across the street from Changing Hands.
ABOUT THE AUTHOR
STEVEN STRALSER, PhD, has years of experience teaching at top-tier graduate business schools. He graduated from the University of Arizona with a degree in marketing and received an MBA from Arizona State University. Stralser earned a PhD at the University of Michigan while teaching marketing and marketing strategy. Stralser is a Fulbright Senior Scholar. He taught marketing management at the Budapest University of Economic Sciences and the University of Miskolc and is a professor emeritus at the Thunderbird School of Global Management. He received the Bobcat Senior Honorary Faculty Award from the University of Arizona for his work in education and has led MBA seminars in London, Paris, and Brussels. Stralser and his wife Rosemary enjoy time with their grandchildren. When not in the classroom or writing about business, Stralser plays left defenseman for his ice hockey team and spends as much time just driving around in his vintage 1951 Riley 2.5L RMB Saloon.

$19.95
ISBN: 9780997532401
Availability: On Our Shelves Now
Published: Center for Professional Development, Inc. - June 29th, 2016
---