Diane Goldner: Yes, You Can Heal
7PM SATURDAY, JANUARY 19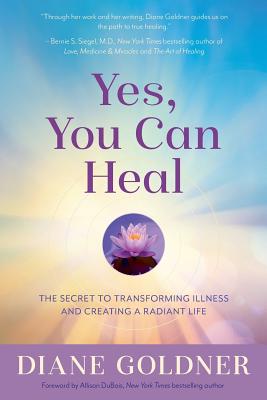 Renowned energy healer Diane Goldner shares how she went from skeptical journalist to healer; offer fascinating stories of healings from her latest book and answer your most urgent questions about health and life challenges.
From the publisher: "Have you ever wanted to really heal? Diane Goldner takes you on a journey to release the deepest levels. Based on her 20 years of experience as a healer, Diane shows you how to access universal healing energies and awaken your own inner healer. With wisdom and love, she brings you into the inner sanctum of her healing room. She shares how to use subtle energy for any ailment—including cancer, heart disease, chronic illness, infertility, mystery illness, trauma, surgery, and other challenges—or simply to live a happier, more radiant life. Diane shows what is genuinely possible, so that you, too, can heal. 'Through her work and her writing, Diane Goldner guides us on the path to true healing,' says Bernie Siegel, M.D., author of the bestselling
Love, Medicine & Miracles
."
ABOUT THE AUTHOR
A healer for 20 years and the author of 3 books on healing, DIANE GOLDNER first researched healing as a skeptical journalist. (She wrote for publications including
The New York Times
,
The Wall Street Journal
and
USA Weekend
.) What she discovered changed her life. After intensive training and time studying with a spiritual master from India, she now helps people transform physical, financial and relationship issues, along with other life challenges. She sees people in person and also does long distance healings with people across the U.S. and internationally. Her work and writing has been endorsed by some of America's top medical doctors including bestselling authors Bernie Siegel, M.D. and Mehmet Oz, M.D. (now the host of "The Dr. Oz Show") and Christiane Northrup, M.D.

$16.99
ISBN: 9781940044026
Availability: Not Available In-Store - Usually Ships from Warehouse in 1-5 Days
Published: Golden Spirit Books - April 23rd, 2018
---